Several Thai businesses are looking for opportunities to invest in Viet Nam, particularly Ho Chi Minh City – the country's biggest economic hub, said Former Thai Prime Minister, Anand Panyarachun.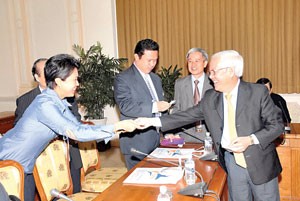 The City Chairman meets with Thai businesses visiting HCMC.
The former Thai PM made this statement yesterday at a function held by the Ho Chi Minh City People's Committee Chairman, Le Hoang Quan.
At the gathering, Mr. Quan expressed his gratitude to the Thai Government for supporting Viet Nam in both multilateral and bilateral forums. The chairman also expressed gratitude to the former Prime Minister for his encouragement of the relationship between the two countries, especially with relation to his support of investment in Ho Chi Minh City.
Mr. Anand Panyarachun respected the achievements that Ho Chi Minh City has recorded during its economic development, particularly the open-door policy and favorable conditions for foreign investors in general. He said he hoped that Thai investment activities would help strengthen the cooperation between the two countries. Mr. Panyarachun is leading a delegation of 60 Thai businesses to Viet Nam to inquire into investment opportunities in Ho Chi Minh City and the southern Dong Nai province.
Before the function, Chairman Quan and local business executives met the delegation to discuss possible cooperation opportunities. Several Thai businesses were interested in investing in electronics and real estate projects. The city's Chairman called on Thai businesses to put capital in building new urban areas and hi-tech industries. The strengthening of this relationship will be very beneficial to the Vietnamese economy.