Thousands of students and workers took part in the fifth 'Waste Recycling Festival' launched by the Ho Chi Minh City People's Committee and the Department of Natural Resources and Environment on April 15.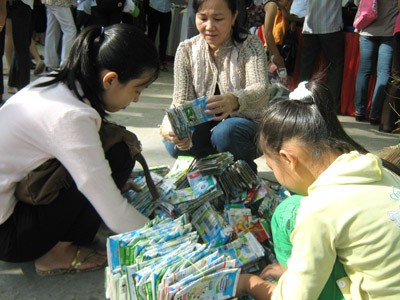 Students collecting used milk packets and cartons at the 'Waste Recycling Festival' (Photo:SGGP)
This year's event aims to raise public awareness of waste and change old habits in using packaging, particularly plastic bags, as well as adopting the 3R policies of- Reducing, Reusing and Recycling waste.

During the festival, many locations recycled waste materials and reused items such as paper to make into decorative paper bags. There were also 20 stalls that showcased reuse and recycling of waste and held a contest on the environment for students at the festival.