Three people died and 22 others were seriously injured in a tragic road accident on the East West Highway section of Ward 5 in District 5, Ho Chi Minh City in the early hours of Sunday morning.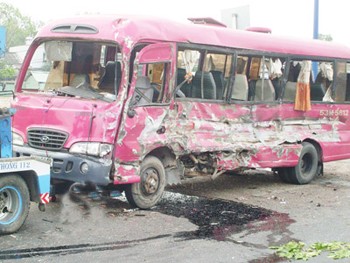 The crushed bus after the accident caused by a container truck (Photo: SGGP)
Eye witnesses saw a container truck travelling from District 1 to Binh Chanh District when it suddenly lost control and plunged across the separator to crash into a 24-seater bus.
The collision resulted in the instant death of two people and 22 others had to be rushed to hospital with severe injuries. Soon after the crash, the container truck driver is said to be absconding.
The accident caused a traffic gridlock until 9am, when rescue workers moved the two vehicles out of the scene.
One child was reported to have died in the hospital by the afternoon of the same day. The police are investigating the incident.