A terrible explosion occurred in a gas agency belonging to Anh Khoi at 7am on October 25 in 998 Au Co Street in Tan Binh District of Ho Chi Minh City in which three people were injured.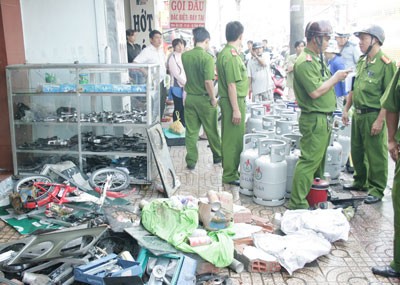 At the scence of gas explosion (Photo:SGGP)
Many witnesses at the scene said they heard a series of explosion sounds and saw black smoke rising into the air from the gas agency. Later, the flames rose high and covered the entire house.  
After receiving information, the fire department in District 11 quickly mobilized dozens of firemen and six fire trucks to cooperate with police and residents to move many gas cylinders to a safer place. After nearly 30 minutes, the flames were extinguished, but many motorbikes, hundreds of gas cylinders and the gas agency were burned down.
The three injured persons were quickly rescued and rushed to hospital.