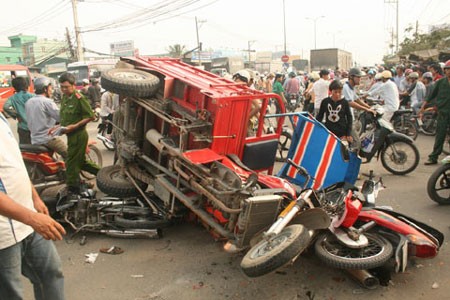 A multiple road traffic accident scene in HCMC
At a meeting with the Legal Department of the People's Council on February 13, the People's Committee of Thu Duc District of Ho Chi Minh City responded to the campaign 'Road Safety Year 2012' by pledging to reduce traffic accidents by 15 per cent this year.
Thu Duc District reported 63 road accidents last year that killed 56 people and injured 29 and three train accidents that killed three people.
Truong Van Thong, chairman of the Thu Duc District People's Committee, said the district has ordered schools to change timings and clear traffic congestion in front of school gates, remove businesses encroaching pavement space and teach students about road traffic regulations. The People's Committee of the District has been striving to reduce traffic gridlock and curb illegal motorcycle racing.
Huynh Cong Hung, Head of the Culture and Society Department of the city People's Council, said at the meeting that traffic congestion during rush hours must be reduced and the district must re-arrange flea-markets alongside national highways, especially in front of industrial parks and processing zones.
Moreover, the district also needs to synchronous cooperation with   locals to address traffic jams along National 1A in Hanoi as it connects Thu Duc District and Di An District of the southern province of Binh Duong with District 9 in HCMC.
Truong Thi Anh, deputy chairwoman of the city People's Council said Thu Duc District must raise student and workers' awareness of traffic regulations as they are the chief culprits as well as victims of traffic accidents.
Deputy Prime Minister Nguyen Xuan Phuc has proposed that the fine for road traffic violation should be much higher. The Ministry of Public Security and the Ministry of Transport have been asked to submit to the government new regulations for administrative fines on traffic violations. The Ministry of Transport should submit the new law to the Prime Minister by the end of the first quarter.