In the first two months of 2006, Ho Chi Minh City made remarkable economic achievements, especially in service and trade sectors. Though economic growth was still lower year-on-year but it showed a great potential on service and trade.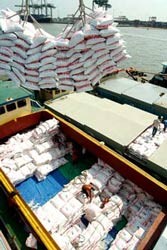 Rice is one of the main export products in Ho Chi Minh City
Statistic figures presented at the meeting on evaluation of Ho Chi Minh City's socio-economic situation in the first two months of 2006 showed that services and trade had rather high growth. This was in line with projected structural transformation of the city's economy. The total retail and service revenues increased by 18.6% year-on-year; export turnover by 24%, reached US$2.17 billion; tourism revenue rose by 38.8%.
During Tet (Lunar New Year holidays) , nearly 240,000 international tourists came to the city, up 52% compared with last year and nearly 57,000 city residents traveled overseas, increasing over 80%.
All economic sectors (foreign, private and state owned) with a positive growth from 17.8% to 35.4% presented a great potential of service and trade. Though the actual working days were less in January and February due to Tet holidays, industry production registered a 15% increase.
This figure, however, was still lower year-on-year (an increase of 13.6%) and compared with the country's total production (15%).
On evaluation of the city's outstanding achievements in the first two months, Chairman of Ho Chi Minh City People's Committee Le Thanh Hai emphasized the successful provision of services for people during Tet period, prevention of bird flu outbreak, attraction of foreign investment in high technology (Nidec raised its investment capital up to US$1 billion and more than US$600 million project of Intel Corporation).
To carry out some focal issues in March, 2006, he pointed out some important tasks to check on sites and solve problems to speed up major transport constructions; to issue regulations and policies to carry out resolutions of Ho Chi Minh City's Committee of the Party and People's Council.
These resolutions comprise of post house clearance fund, small and medium enterprise support fund, establishment of a research division, urban governmental projects, and suggestions on policies of housing for workers, etc.
The Economy Institute was assigned the task of preparing and submitting to Ho Chi Minh City People's Committee a plan on setting up a joint stock company to build Saigon Hi-Tech Park's infrastructure in order to facilitate investment and development of this important sector.