The Ho Chi Minh City Cargo Transport Association on Tuesday sent   a proposal to the Prime Minister and the Ministries of Transport and Finance to reduce the current toll fee on the HCMC-Trung Luong Expressway by 50 per cent.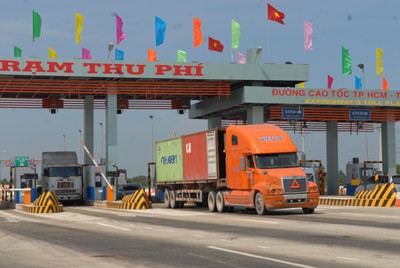 HCMC Cargo Transport Association has proposed a slash on toll fees on the HCMC-Trung Luong Expressway (Photo: SGGP)
After the Cuu Long Corporation for Management, Investment and Development of Traffic Infrastructure began collecting toll on the expressway from February 25, the association has received many complaints from transport businesses as to the high toll fee rate.
According to the association, most transport companies are using heavy trucks of over ten tonnes or tractor-trolleys to carry commodities from HCMC to the Mekong Delta and vice versa; thus a toll cut is imperative to curb an increase in goods prices, amidst current difficult economic times.
The current toll fee of VND8,000 a kilometre for an over 18 tonne truck or a 40 foot tractor-trolley, is far too high as transporters have to pay VND640,000 for a two-way trip on the 40 kilometre expressway, leaving a very small profit margin.
Truck owners basically earn about VND300,000-400,000 net on a trip within a 100 kilometre radius. Hence to cover the high toll fee, they will have to increase freight rates by 20 per cent or else use the other option of plying on Highway 1A.
 
Besides, toll fee for a 40 foot tractor-trolley should not be double that of a 20 foot one-as transport costs are the same for both the sizes, calculated by weight and not volume, the association said.
The association also requested not to install a toll station on   Highway 1A, meant to force trucks to use the HCMC-Trung Luong Expressway, as this did not comply with ordinance issued in 2001 by the National Assembly Standing Committee.
Related articles:
Vehicular traffic on Expressway drops, after toll fee charge
Transport Association protests high Expressway toll fee
HCMC-Trung Luong Expressway to charge toll fee