Luong Hoang Trung, deputy chairman of the HCMC Cargo Transport Association, is of the opinion that the Toll fee being charged on the Ho Chi Minh City-Trung Luong Expressway is far too high, and that it will increase overall transport costs by 20 per cent.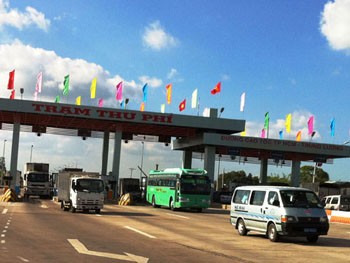 A toll station on HCMC-Trung Luong Expressway (Photo: nld)
HCMC-Trung Luong Expressway will begin to collect Toll fee from today, Feb. 25, and transport enterprises are concerned that the high Toll fee will move up transport costs for vehicles using this route to move commodities.
The Expressway set the fee at a minimum of VND40,000 and maximum of VND320,000.
According to the HCMC Cargo Transport Association, all transport businesses will have to increase their freight rates based on the current Toll fee, leading to an increase in commodity prices.
At present, tens of thousands of trucks and container vehicles ply the expressway each day.
Related article:
HCMC-Trung Luong Expressway to charge toll fee