After over 3 years of construction, Vietnam's biggest wastewater treatment plant, constructed with Japanese official development assistance (ODA), was inaugurated and put into operation Friday.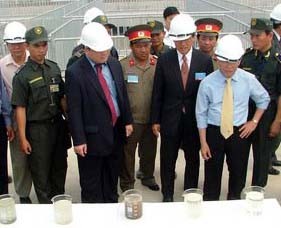 Deputy Prime Minister Hoang Trung Hai (L, 3rd) and city's People's Committee chairman Le Hoang Quan (R, 2nd) at the plant Friday (Photo: Tuoi Tre)
The HCM City plant cost VND4.16 trillion (around $245 million) and has a daily capacity of 141,000 cubic meters.
Located in Binh Hung commune, Binh Chanh district, the plant has been built by a consortium of Japanese contractors, Nishimatsu Construction Co., Ebara Corporation and Shimizu Corporation, under the supervision of Pacific Consultant International.
The plant's investor is the HCM City East-West Highway and Water Environment Project Management Unit.
The plant is part of the projects to improve the city's water environment, which has been financed by a Japanese ODA loan through Japan Bank for International Cooperation. The loan is worth nearly 24 billion yen ($266 million).
The loan repayment is over 30 years, including a 10-year grace period, with annual interest rates of 1.3 percent and 1.8 percent respectively.
The plant's feasibility study and design was the work of the research and development program of the Japan International Cooperation Agency (JICA).
At the inauguration ceremony, Le Hoang Quan, chairman of the city's People's Committee, said the plant will treat all wastewater discharged from eleven districts of the city, vastly easing the chronic flooding in the inner city and improving the urban living environment.
JICA Chief Representative, Motonori Tsuno, said the agency would provide further assistance to the city in dealing with wastewater.
Speaking at the ceremony, Deputy Prime Minister Hoang Trung Hai said, "The project is not only of great significance in protecting the city's water environment, but it also gives a boost to the relationship between Vietnam and Japan."
On behalf of the Vietnamese government, Mr. Hai thanked the Japanese government for granting ODA to Vietnam's major projects during the past several years. 
Since Japan resumed ODA to Vietnam in November 1992, the cumulative Japanese ODA loans to Vietnam totals 885 billion yen ($7.4 billion), covering 44 development projects and five commodity loans.