Hundreds of residents and drivers in Tan Thoi Hiep Ward in District 12 of Ho Chi Minh City were seen running amok after seeing a truck burst into huge leaping flames on the Tan Thoi Hiep fly-over bridge.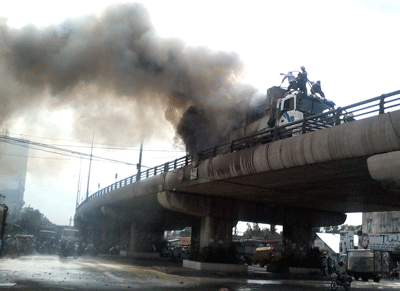 Fire fighters striving to put out the flames (Photo: SGGP)
According to witnesses, the truck with number plate 16M-2911, carrying several barrels of chemicals, was coming from Ga Crossroad to An Suong section of District 12 on National Highway 1A at a very high speed.
When the truck went on the fly-over bridge, driver Dong Quang Chieu, 62, jammed on the brakes to avoid hitting a car in front. This caused the barrels of chemicals to slam against each other, and burst into flames.
Within a matter of minutes, the fire engulfed the entire truck with black smoke and the smell of chemicals pervaded the area. This smell caused people to run far from the scene as possible. Luckily, both the   driver and his assistant managed to jump out of the truck in the nick of time. No one has so far been reported injured.
Three fire fighting trucks arrived at the scene soon after receiving information, along with the traffic police, and were able to extinguish the fire only after two whole hours, but the unpleasant smell and black smoke continued to pervade the air.
Le Van Khuong Street was seen covered with a yellow coloured powder, and it took several hours for the traffic police to clear the congestion on Le Van Khuong, Nguyen Van Tho Streets and along National Highway 1A.