Ukraine's Government held a function in Ho Chi Minh City on Monday night to officially announce its honorary consulate office and celebrate the 15th anniversary of the country's Independence Day – August 24.
Among the participants was Ukraine's Deputy Foreign Minister Yurii Kostenko, who is visiting Viet Nam from August 27 to 30 to boost ties between the two countries.
Representing local authorities was Mr. Huynh Thanh Lap, vice chairman of the Ho Chi Minh City Council's Committee. Ukraine's Ambassador to Viet Nam Pavlo Sultanski, honorary consul Vu Dinh Luyen and representatives of diplomatic corps also attended.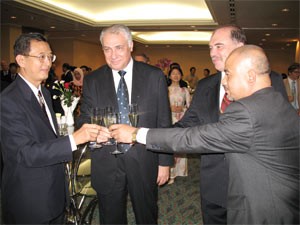 (From L) Mr. Huynh Thanh Lap, Ukraine's Deputy Foreign Minister Yurii Kostenko, Ambassador Pavlo Sultanski and Honorary Consul Vu Dinh Luyen toast at the function (Photo: Tuong Thuy)
Both Mr. Kostenko and Mr. Lap said they expect the official presence of the Ukraine Government in Ho Chi Minh City would facilitate multilateral ties between the two countries. Both agreed the two sides' business communities still have lots of potential to explore, and the two nations need to make more efforts for this.
Mr. Lap said Ho Chi Minh City is willing to support Ukraine businesses' activities in the southern hub of Viet Nam.
Before the reception, Mr. Lap held talks with Mr. Kostenko at the City Hall.
Mr. Kostenko is to fly to Ha Noi on Tuesday, then meet with his Vietnamese counterpart Le Cong Phung. On Wednesday, he will meet with Vietnamese Foreign Minister and Deputy Prime Minister Pham Gia Khiem before leaving Viet Nam.
Besides business and investment, Viet Nam and Ukraine have developed relations in other areas such as education and training, science and technology. Many Vietnamese students have been studying in Ukraine.
The two nations set up their diplomatic relations in 1992.