With Valentine's this year coming at the weekend more couples were able to spend time together.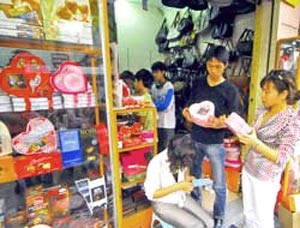 Customers choosing Valentine gifts at a souvenir shop (Photo: SGGP)
From early evening, the city's streets were crowded with Valentines. Some streets, like Cach Mang Thang Tam, Nguyen Thi Minh Khai, Ton That Tung, Cao Thang, Le Loi and the Quach Thi Trang roundabout, became completely jammed.  
Restaurants and entertainment centers were overcrowded too.  
One of the most anticipated events of the day, a live show by the Australian ABBA tribute band FABBA, at Lan Anh Music Club, district 10, welcomed thousands of foreigners and local music fans of all ages, despite tickets costing from VND250,000 ($14) to VND600,000 ($34).  
Elsewhere, the 126 Stage in district 3 had few empty seats for its music and comedy show, 'Tinh ca Valentine' ('Valentine's love songs'), with an attractive list of various popular artistes, like Phuong Thanh, Lam Truong, Cam Ly, Kasim Hoang Vu, Hoai Linh and Chi Tai.  
Classical music fans also found loving Valentine moments together, diving deeply into the melodies of immortal songs by Van Cao, Van Phung, Y Van, Doan Chuan, and Ngo Thuy Mien at the love song concert, 'Hat cho yeu thuong' ('Sing for love'), headlined by Anh Tuyet and the ATB band at Hoa Binh Theatre in district 10.  
All the sets and gigs for Valentine's Day on stages throughout the city, including HCMC Theatre Company, 5B, Phu Nhuan, Institute for Cultural Exchange with France (IDECAF) and 7 Tran Cao Van were full of viewers too.  
The Golden Stage of 'Meritorious Artist' Minh Vuong had a successful debut for its show 'Nhung doi tinh nhan tren san khau cai luong' ('Couples on cai luong stage'). 
The show is composed of a series of extracts from popular cai luong plays, like 'Luong Son Ba – Chuc Anh Dai', 'Ben cau det lua' ('Weave silk on the bridge') and 'Giac mong dem xuan' ('Spring dreams').  
Couples unable to buy tickets at the box office were willing to buy from touts, with prices over VND300,000 ($17).  
The organizers used part of the proceeds from the show for poor families in three provinces: Long An, Ha Tinh, and Binh Thuan and offered gifts to elderly and sick artistes who live alone in city. 
Cinemas were also full through out the day.  
As for gifts, the two most popular choices were flowers and jewelry. The World of Flowers Co., district 3, said they received thousands orders via internet, of which 40 percent were worth between VND1-3 million ($57-171) each. This year, the company also received 30 orders for wedding bouquets.  
Various temporary flower 'shops' by students appeared at many places in the city, such as the front of Tao Dan Park, district 1, or in some universities.  
In Can Tho City, Mekong Delta, the price of roses increased three to four times more than the normal days. Flower bouquets made at the request of customers were sold at VND300,000-500,000 ($17-29). 
Meanwhile, Phu Nhuan Jewelry said their total trading on Valentine's Day was worth approximately VND5 billion ($285,700).  
Related articles:

Shoppers buying Valentine's gifts increases
Special gifts for Valentines
Market abuzz with Valentine's Day offerings