Two Vietnamese companies signed memoranda with the China Merchants Group (CMG) outlining the cooperation in development of transportation in Ho Chi Minh City yesterday.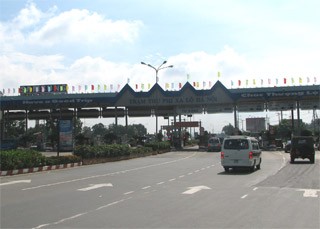 China Merchants Group will invest in toll roads in Ho Chi Minh City (Photo: T.C.)
The signing ceremony was witnessed by Le Hoang Quan, Chairman of the Ho Chi Minh City People's Committee and the visiting Chinese Communications Minister, Li Shenglin.
 
The signing marked the start of Minister Li Shenglin's visit to Viet Nam from April 1-5, which aims to strengthen cooperation in infrastructure development as well as establish trade deals between businesses from the two countries.
 
China Merchants Holdings Hong Kong, a subsidiary of CMG, and the Saigon Transportation Mechanical Corporation of Viet Nam agreed to conduct negotiations discussing the possibilities of strategic cooperation in investing, developing and modernizing ports, cargo storage facilities, and toll roads in the city.
 
A separate agreement between China Merchants Holdings Hong Kong and the An Phu Joint Stock Company, outlined how the two companies will corporate on public service projects, real estate and financial projects, and will collaborate to develop new industrial zones in Viet Nam.
 
The first project under consideration is the Hoc Mon Residential and Industrial Zone in the outlying district of Hoc Mon, currently owned by the An Phu JS Co.