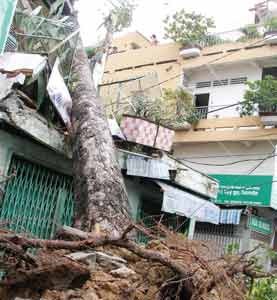 An uprooted tree in District 10 (Photo: SGGP)
A whirlwind swept over Ho Chi Minh City early Friday morning, causing many trees to fall on streets and damaging houses.
The strong whirlwind came with rain and hit many districts. Lots of big trees uprooted and some of them fell down to nearby houses but no deaths were reported. They damaged electricity and telecoms cables.
In District 10, strong winds blew away the roofs of various houses and the roofs were hung on nearby trees. Firemen came to take them down.
In the afternoon, Mr. Tran Thien Ha, director of the HCMC Greenery and Park company told Sai Gon Giai Phong newspaper that the whirlwind uprooted and broke down a total of 13 trees, with many in District 1. He added his company would make compensation for people whose houses were damaged by the fallen trees.