Construction of the Saigon-Hiep Phuoc seaport will begin on May 16, marking preparations for moving operations from Saigon Port after 100 years of receiving ships, said the general director of Saigon Port, Le Cong Minh.
The new port will help develop seaport systems in Ho Chi Minh City, while restoring traffic safety and order, the deputy Prime Minister, Hoang Trung Hai said.
Deputy PM Hai will joined a number of central and local government officials at the groundbreaking ceremony today.
Moving but still belonging to Ho Chi Minh City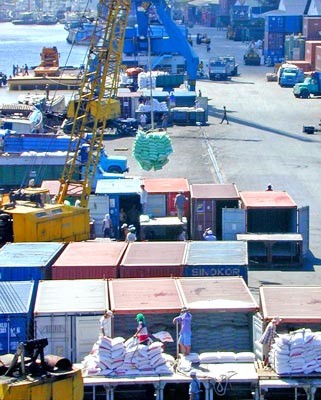 Fertilizer being unloaded at Saigon Port. (Photo: SGGP)
According to Mr. Minh, though Saigon Port will move to Hiep Phuoc it still belongs to Ho Chi Minh City, and traditional activities, such as meeting and seeing off passenger ships will continue at the current port.
Saigon Port will have better chances to develop once it is moved to Hiep Phuoc, where the Soai Rap River has been dredged to a depth of 9.5 meters.
With increasing passenger ships, Saigon port cannot meet demand and the roads around the port often suffer from traffic jams.
The first phase of the new port will have three 800 meter quays and able to replace Nha Rong and Khanh Hoi ports, as well as receive 8.7 million tons of cargo per year.
During its second phase, Saigon Port will add a further 200 meters of quay in 2010 and aims to handle 10 million tons of cargo per year.
To meet economic demands, the Prime Minister said five ports need to be moved before 2010. They are: Saigon, Tan Cang, Tan Thuan Dong and Vegetable Ports and Ba Son Shipyard.
The Ben Nghe and Bong Sen ports will remain.
At present, Tan Cang port has finished preparations for moving.
Keeping traditional cargo work
 
Though Saigon Port aims to take large container ships and attract passenger ships, it will continue some of its traditional duties that it has undertaken for 100 years, including fertilizers and manioc. Such cargo does not produce large profits but it is necessary for farm production, and ultimately exports.
Saigon Port will also work with Singaporean and Danish contractors to build international standard ports in Cai Mep- Thi Vai, Ba Ria – Vung Tau Province in order to meet the city economic needs.