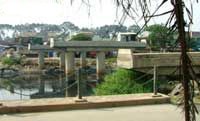 Hoang Hoa Tham Bridge under construction
Construction of Hoang Hoa Tham Bridge in Ho Chi Minh City will be resumed soon as the city government has agreed to provide capital.
On March 7, 2006, City Vice Chairman Nguyen Van Dua gave Urban Communications Management Unit 1 a nod to use State budget to re-start work on this bridge in District 1, across Nhieu Loc-Thi Nghe Canal.
The former project owner will have to return to State budget the invested money after the construction finishes.
The construction was started almost ten years ago but not completed due to capital shortage. Therefore, the Ho Chi Minh City People's Committee assigned the new project owner to continue the construction in October 2005.
The unit has modified the design, increasing the height of the bridge to ensure better navigation. Site clearance is also under way.