Illegal smuggling of rare woods was discovered in a company based in Binh Phuoc Province when it attempted to export 60 cubic meters of rare wood banned from trade through the Cat Lai Port in HCMC's District 2 yesterday.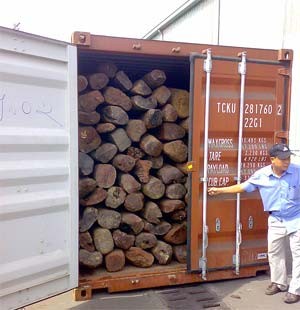 A container of rare woods discovered at the Cat Lai Port in District 2, HCM City
During a check of two containers of the Hoan Thien Import Co., Ltd., which were awaiting customs clearance, local market control officers found 45 cubic meters of Dalbergia Balansae hidden inside.

Dalbergia Balansae is a rare legume of the Fabaceae family found in Viet Nam and China but threatened with habitat loss.

Hoan Thien Company could not provide any legal documentation for the two containers. Documents for the two containers claimed they contained only flour.

Local market control officers checked the company's remaining container at the port and found 15 cubic meters more of export-banned wood.

The HCMC Market Control Department and others confiscated the containers' contents and are to deal with them in accordance with the Law.

According to HCMC customs officials, the company had already exported two containers of the wood by claiming they were flour as well.