Fifteen years of volunteer activities by the city's young people were honored at a special program held by the city's Communist Youth League at Dam Sen Cultural Park on Sunday. At the event, 30 distinguished volunteers were presented with certificates of merits by the city's People's Committee.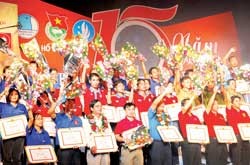 Thirty outstanding volunteers were presented with certificates of merits.
Entitled "Fifteen years of lighting the flame of voluntarism", the event was attended by some 10,000 young volunteers and several city officials, including Standing Deputy Party Secretary Nguyen Van Dua, Ho Chi Minh Communist Youth League Secretary Phan Van Mai and the People's Committee Deputy Chairwoman Nguyen Thi Thu Ha.
Over the past 15 years, millions of the city's young people have participated in a great deal of volunteer activities and have gained significant achievements both inside and outside the country.
At home, they have spent more than 60,000 work days to help build more than 4,600 houses for the poor, 363 bridges and 631 km of rural roads. Volunteer doctors have given free medical check-ups and treatment to more than 238,000 poor people.
Overseas, thousands of Vietnamese have worked in Laos and Cambodia and in 14 cities twinned with Ho Chi Minh City.
The period also saw more than 12,000 young people admitted to the Communist Youth League and about 1,500 joined the Communist Party of Viet Nam.
The 30 volunteers receiving certificates of merits at the event are outstanding members of the Communist Youth League, voluntary young people, musicians, journalists and other people who have made great contributions to voluntary movements.   
In his speech at the event, Mr. Dua said, "The city highly appreciates the achievements gained by the city's young volunteers. Their activities have become more diversified, profound and practical. They have contributed to promoting dynamism and creative thinking among young people."
Mr. Dua called on the city's Communist Youth League to prepare new voluntary movements for young people and challenged them to achieve better results.
As part of the event, a festival entitled "Blood Drops of Love" was held, attracting 800 blood donors. The blood donations were later transferred to the Cho Ray Hospital, the city's Red Cross and the Hematology and Blood Transfusion Center.
Earlier, at the Volunteers' Festival held for the second time this year by the League, a march entitled "Support for Students" was joined by more than 7,000 members of the League. At the event, VND5.6 billion (US$340,000) was raised from businesses to support poor students.
In addition, other volunteer activities were conducted in many districts of the city to support disadvantaged students, the elderly, the poor and handicapped children.