Yesterday, the ship that is hosting the Southeast Asian Youth Program (SSEAYP) docked at the Sai Gon Port in Ho Chi Minh City. Upon arrival the ship was warmly welcomed for a four day stay in the city, as part of its 2007 voyage.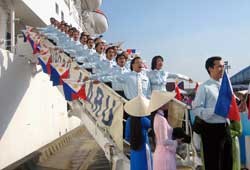 Philippine delegates step down the Nippon Maru
Yesterday evening, Nguyen Thi Thu Ha, the Vice Chairwoman of the People's Committee, hosted a banquet in honor of the SSEAYP participants, which comprise 319 young members from Japan and 10 ASEAN countries, including Viet Nam.
Later that evening, approximately 1,000 youths from the Ho Chi Minh City Cultural Youth House had a friendly exchange with the SSEAYP participants.
SSEAYP members on board the Nippon Maru are expected to tour Ho Chi Minh City, take part in cultural-exchange activities with city youths and take part in home-stay programs with local families.
Viet Nam is its final stop before the Nippon Maru returns to Japan.
This is the eighth time this ship has sailed to Viet Nam. It has docked in HCMC seven times and Da Nang City in the central region once.
This year, Viet Nam has 29 youth participants on the ship and they spent most of their time introducing international friends to the country's traditional dress (ao dai or long gown) and its famous UNESCO-listed Ha Long Bay.
The annual program started in 1974 based on a joint agreement that year between Japan and five South-East Asian countries. Since 2000, the program, mainly funded by the Japanese government, has expanded to all ASEAN countries.
In SSEAYP, more than 300 participants from Japan and Southeast Asian countries live together on board for about 50 days and visit the participating countries.
Activities on board include discussions, cultural introductions, sports, recreational and club activities. Activities for the participants upon docking in a particular country include exchanges with the local youths, home-stay programs, visits to various facilities and volunteer activities.