RAS JEDIR, Tunisia, Feb 27, 2011 (AFP) - More than 10,000 people fled Libya into Tunisia at the Ras Jedir post on Saturday, most of them Egyptians, the Red Crescent said Sunday, calling it a "humanitarian crisis".
"More than 10,000 people passed through Ras Jedir yesterday," the organisation's regional president in Ben Guerdane, the main border town, Monji Slim said.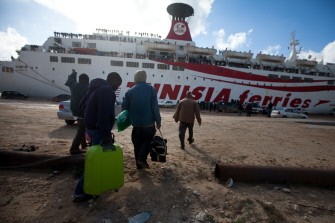 Workers from Ghana try to board a Tunisian vessel, only taking nationals from Tunisia and Morroco on board, during an evacuation operation on February 26, 2011 in the harbour of the Libyan port city of Benghazi. AFP
More than 40,000 have come through this border post in the past week, including more than 15,000 Egyptians. The flood of arrivals was continuing Sunday.
"It is a humanitarian crisis, our capacities to take in people are exhausted, people are sleeping in the open. I appeal urgently for everyone to help resolve this problem. The entire world should mobilise to help Egypt repatriate its nationals," Slim added.
The exodus from Libya, where leader Moamer Kadhafi is battling for survival, began on February 20.
The situation has worsened all week, particularly after Kadhafi's son Seif al-Islam on Monday accused Arab and African expatriates of fomenting the revolt against his father and accused Egyptians and Tunisians of being behind the conspiracy.