PESHAWAR, Pakistan, May 10, 2009 (AFP) - More than 100,000 civilians were expected to flee Pakistan's battle-torn northwest Sunday, after the government eased a curfew so people could escape a military onslaught against the Taliban.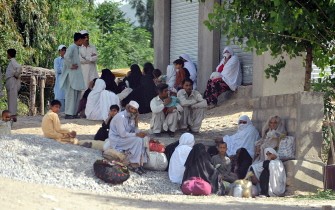 Local residents wait for transport as they flee from military operations against Taliban militants at the Thana area in Malakand, Pakistan on May 9, 2009 (AFP photo)
Aid agencies fear a humanitarian disaster as security forces pound insurgent hideouts in the scenic Swat valley, a former ski-resort northwest of Islamabad torn apart by a two-year insurgency by the Islamist hardliners.
Up to 500,000 desperate people are already believed to have left their homes in Swat and nearby Lower Dir and Buner districts, the United Nations refugee agency has said, crowding into hastily-set up camps.
With the government unable to provide transport for the panicked diaspora, witnesses said people were grabbing what they could and streaming into thousands of vehicles or setting off on foot with their meagre belongings.
"I have just 4,000 rupees (50 dollars) cash and some clothes. I must leave today. It is like a doomsday here in Mingora," said 24-year-old Asifa as she stood at the bus stop in Swat's main town with her three children.
"There is nobody to help me. It is everybody for themselves. I am willing to sit even on the roof of the bus, but there is no place."
The easing of the curfew began at 6:00 am (0000 GMT) in Swat and Malakand, and has been extended to 3:00 pm because of the numbers trying to flee, a military official said.
"We expect more than 100,000 people will quit their homes at different places in Swat today," local administration chief Khushhal Khan told AFP.
The government has said it was bracing to cope with half a million people displaced by the fighting.
"The crisis threatens to be the largest man-made humanitarian disaster in Pakistan's post-independence history," the British-based charity Muslim Aid said in a statement on Sunday.
Information minister Mian Iftikhar Hussain on Saturday appealed to the international community to help Pakistan cope with the flood of refugees.
"The situation at the camps is very worrisome because the weather is hot and people are facing many difficulties," Hussain told a news conference.
"It is very difficult to control sentiments while seeing children crying in the camp," he added.
Thousands of Pakistani troops backed by warplanes and helicopter gunships are involved in the massive operation against Taliban and extremist fighters in the area, where jet fighters were pounding suspected rebel hideouts.
Khan said the government had made no arrangements for the transportation of the more than 100,000 civilians expected to flee Sunday, but had set up five more camps in North West Frontier Province where the displaced will be lodged.
Pakistani security forces mounted operations across three districts late last month after the hardline Taliban advanced to within 100 kilometres (60 miles) of Islamabad, despite a February ceasefire with the rebels.
Premier Yousuf Raza Gilani said Saturday that the army would minimise civilian casualties while the government would look after the displaced, but people streaming out of the area say homes have been hit with many killed.
Pakistan's military says they have killed nearly 200 militants since Friday, although the death tolls could not be confirmed independently because of the ongoing military operation.
"Militants are using houses of civilians as bunkers for engaging security forces," the military said, adding that insurgents were "harassing" the civil population and were "intensely involved in looting and arson" in Mingora.
The fighting has sunk the controversial February deal between the government and an Islamist hardliner that aimed to put three million people under sharia law in a bid to end the Taliban uprising.