SEOUL, July 3, 2010 (AFP) - Twelve passengers were killed and eight others were seriously injured when their bus fell from a bridge near Seoul's international airport on Saturday, police said.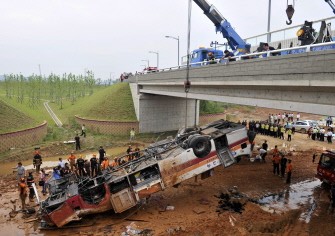 South Korean police and firefighters recover the wreckage of the bus on July 3 2010. AFP
The death toll rose to 12 from five within a few hours after the accident, with some passengers succumbing to injuries after being taken to nearby hospitals.
TV footage of the wreckage showed the bus fell about eight metres (about 27 feet) off Incheon Bridge on to a construction site for an underpass.
A witness said the bus veered off its course as it tried to avoid colliding with a parked car.
The accident happened as the bus, which was carrying about 40 passengers, left Songdo district in Incheon City for Incheon international airport, about 20 kilometres (13 miles) away, police said.