About 127,100 residents have been evacuated to safety after a 5.8-magnitude earthquake hit Yingjiang County in southwest China's Yunnan Province Thursday, the Ministry of Civil Affairs said Saturday.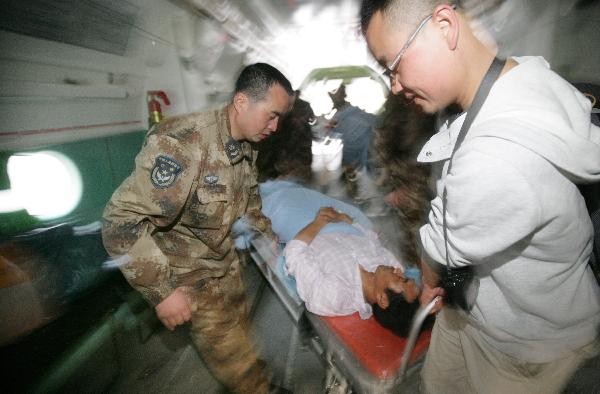 Three people with severe lumbar injuries are transfered to a transport plane of the People's Liberation Army (PLA) at an air port in Tengchong, southwest China's Yunnan Province, March 11, 2011. Two PLA transport planes were put into the quake-relief operations on Friday
As of 10 p.m. Friday, the earthquake has left 25 people dead and more than 250 others injured including 134 seriously, the ministry said in a report.
All the casualties were reported in Yingjiang County, with the surrounding counties including Longchuan, Lianghe, Ruili and Luxi reporting damages of thousands of houses or apartments, it said.
The earthquake has affected the production and life of about 344,600 residents in the five counties.
The earthquake destroyed 18,445 houses and apartments and left 55,345 others seriously damaged, the ministry's figures showed.