ROME, July 13, 2010 (AFP) - Italian police on Tuesday said they were carrying out an operation to arrest more than 300 people in a crackdown on the 'Ndrangheta, the crime syndicate operating in the southern region of Calabria.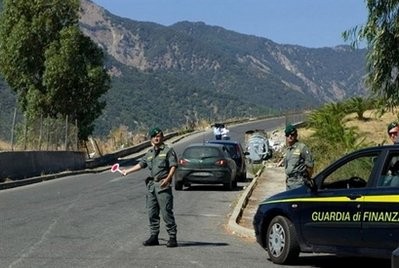 File photo shows Italian police conducting a roadblock in the southern region of Calabria. AFP file
In the largest operation of its kind in recent years, 3,000 police in Calabria and several parts of the wealthy north of Italy made arrests for mafia association, murder, arms offences, trafficking, extortion and other crimes, police said in a statement.
The 'Ndrangheta is one of Italy's four large organised crime syndicates, along with the Camorra in the area of Naples, Cosa Nostra in Sicily and the smaller Sacra Corona Unita in the southeastern region of Puglia.
Italy's Eurispes institute estimated the 'Ndrangheta's turnover from trafficking in drugs and arms, prostitution and extortion at 44 billion euros (55 billion dollars).