Military operations and airstrikes in eastern Afghanistan have killed 63 people in the past week, mostly civilians including 20 women, a provincial governor said Sunday.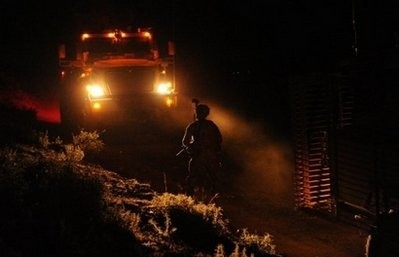 A US soldier is seen during a night operation in Afghanistan's Khost province.
They were killed mostly in air raids by the US-led NATO force against suspected rebels in the eastern province of Kunar, provincial governor Fazlullah Wahidi told AFP.
"In total 63 people have died," the governor said, adding that at least 20 of those killed were civilian women, 27 were males aged between seven and 20 and three were elderly men.
He said there were 13 insurgents among the dead.
The governor said the raids in the province's remote Ghaziabad district were still ongoing.
NATO's International Security Assistance Force (ISAF) confirmed it was involved in an ongoing operation in the troubled region but denied its troops had killed any civilians.
"We have no report of any civilian casualty," an ISAF spokesman, US Major Michael Johnson told AFP. Johnson said ISAF was investigating allegations that seven civilians were injured during the raids.
He said troops had reported that 26 armed insurgents had been killed.
Afghan defence ministry spokesman, general Mohammad Zahir Azimi said he was not aware Afghan troops were operating in the region.