Thirteen more people have died in landslides and accidents caused by heavy rain in Pakistan, officials and residents said Thursday, bringing the death toll from several days of bad weather to 80.
Six members of a family died and two were injured when they were hit by an avalanche in the mountainous Dir district of North West Frontier Province on Wednesday, local residents told AFP by telephone.
Separately the roof of a religious seminary at Karak town in the same province collapsed on Wednesday, killing two female students and injuring another eight, local police official Khurshid Bungash said.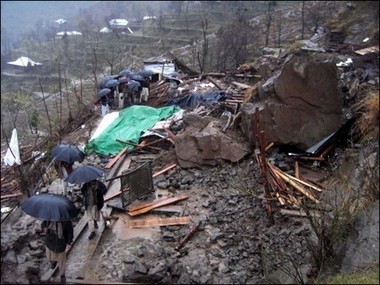 Pakistani villagers gather at the landslide site after a heavy downpour at Bagh, some 100 kms west of Muzaffarabad, the capital of Pakistan administrated Kashmir.
Another three people were reported killed in roof collapses in other towns in the hilly province bordering Afghanistan during the last 24 hours, officials said.
Further mudslides were reported in Pakistani Kashmir, where 37 survivors of the devastating 2005 earthquake, mostly women, were killed in two separate landslips on Tuesday.
Two more women were killed on Wednesday when a landslide swept away a house at Moyian Saydan village in Kashmir's Jhelum valley, police said.
The 7.6-magnitude earthquake in October 2005 killed more than 73,000 people and left 3.3 million homeless. More than 1,000 people also died in Indian Kashmir.
Local authorities evacuated dozens of Kashmiris whose homes were damaged by the rain to safer areas in the Himalayan region, where thousands of people are still living in tents after the earthquake.