Britain and France said they were seeking U.N. authority for a no-fly zone over Libya, as Muammar Gaddafi's warplanes counter-attacked against rebels and aid officials said a million people were in need.
Rebels swiftly rejected an olive branch offered by an associate of Gaddafi, and fighting escalated around a key oil port. The aging autocrat warned that if he fell thousands of refugees would "invade Europe."
With civilians surrounded by forces loyal to Gaddafi in two western towns, Misrata and Zawiyah, fears grew of a rising humanitarian crisis if the fighting continued.
U.N. aid coordinator Valerie Amos said more than a million people fleeing or inside the country needed humanitarian aid.
"Humanitarian organisations need urgent access now," she said. "People are injured and dying and need help immediately."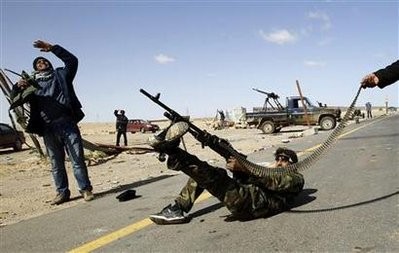 A rebel fighter fires his rifle at a military aircraft loyal to Libyan leader Muammar Gaddafi at a checkpoint in Ras Lanuf March 7, 2011
The U.N. appealed for financial support totaling $160 million to fund an operation over the next three months to get shelter, food and medicines ready.
MILITARY DEBATE
"We are working closely with partners on a contingency basis on elements of a resolution on a no-fly zone, making clear the need for regional support, a clear trigger for such a resolution and an appropriate legal basis," British Foreign Secretary William Hague said on Monday.
A French diplomatic source said France was "working with our partners in New York on a no-fly zone resolution." Gulf states called for a no-fly zone and for an urgent Arab League meeting.
Defense Secretary Robert Gates, visiting Afghanistan where foreign forces have been fighting for a decade, cautioned any action in Libya "should be the result of international sanction." The White House said all options were on the table, including arming rebels.
Russia, a permanent member of the U.N. Security Council with veto powers, said it opposed foreign military intervention. "The Libyans have to solve their problems by themselves," Foreign Minister Sergei Lavrov said.
NATO Secretary-General Anders Fogh Rasmussen stressed the need for UN authorization. "I can't imagine the international community and the United Nations would stand idly by if Gaddafi and his regime continue to attack their own people," he said.
"We have asked our military to conduct all necessary planning so that we stand ready at short notice," he added.
NATO has launched 24-hour air surveillance of Libya with AWACS reconnaissance aircraft, U.S. ambassador to NATO Ivo Daalder said.
Daalder said NATO representatives were discussing other possible moves, including a no-fly zone and helping to enforce the U.N.-mandated arms embargo on Libya, ahead of a meeting of NATO defense ministers on Thursday.
Western leaders, however, are anxious to avoid another drawn-out military commitment after the Iraq and Afghan wars.
President Barack Obama said he wanted to "send a very clear message to the Libyan people that we will stand with them in the face of unwarranted violence and the continuing suppression of democratic ideals."
Swiss-based exile group Libyan Human Rights Solidarity said forces loyal to Gaddafi had launched a new attempt to capture Zawiyah, a rebel-held town 50 km (30 miles) west of the capital.
It was impossible to verify the report because residents in the town were no longer reachable by phone.
CITY UNDER SIEGE
In the rebel-held city of Misrata, the wounded were being treated on hospital floors because of a catastrophic shortage of medical facilities in the besieged city, a resident said.
Misrata is the biggest city in the west not under the control of Gaddafi, and its stand against a militia commanded by his own son has turned it into a symbol of defiance.
In the east, warplanes launched air strikes on the rebel-held oil terminal town of Ras Lanuf 600 km (400 miles) east of the capital Tripoli, witnesses said. One ripped through a car carrying a family.
Shipping sources said the fighting had closed the oil ports of Ras Lanuf and Brega. Brent crude prices rose above $118 a barrel on Monday and U.S. prices pushed to their highest level since September 2008.
The fighting has been erratic, with small groups engaging each other, guerrilla-style, in hit and run raids. Air attacks have been fitful and bombing often inaccurate.
The resilience of Gaddafi's troops and their ability to counter-attack has raised the prospect of prolonged bloodshed.
The United Nations and the European Union are dispatching fact-finding missions to the north African nation, where reports by residents of attacks on civilians by security forces have triggered a war crimes probe and provoked global outrage.
The rebels have called for U.N.-backed air strikes against what they say are African soldiers-for-hire used by Gaddafi to crush the uprising against his four-decade rule.
The Libyan government says it is fighting against al Qaeda terrorists and maintains that its security forces have targeted only armed individuals attacking state institutions and depots.
COUNTER-ATTACK
Government forces' advance on Ras Lanuf forced residents to flee and rebels to hide weapons in the desert.
One man complained of the rebels' inexperience, as a fighter lay on his back and fired an automatic weapon ineffectually at a warplane.
"Look at the way they're firing at the plane," he said. "They have no experience, no leadership and no strategy."
Jadallah Azous Al-Talhi, a former prime minister, appeared on state television reading an address to elders in Benghazi.
He asked them to "give a chance to national dialogue to resolve this crisis, to help stop the bloodshed, and not give a chance to foreigners to come and capture our country again."
Ahmed Jabreel, an aide to rebel leader Mustafa Abdel Jalil, said: "Any negotiations must be on the basis that Gaddafi will step down. There can be no other compromise."
One of Gaddafi's sons, Saadi, said Libya would descend into civil war if his father stepped down, Al Arabiya television reported, adding that Libya would turn into a new Somalia and that the country's tribes would fight each other.
In an interview with France 24 television, Gaddafi said Libya was an important partner for the West in containing al Qaeda and illegal migrants trying to reach Europe.
"There are millions of blacks who could come to the Mediterranean to cross to France and Italy, and Libya plays a role in security in the Mediterranean," he said.
So far tens of thousands of migrant workers have fled but few Libyans. "If we get a massive outflow of Libyans, this would create a refugee situation, so we appeal to all countries to keep their doors open and be ready to provide assistance as humanitarian law requires," United Nations High Commissioner for Refugees Antonio Guterres said.
A British team reported to include special forces left Benghazi on Sunday after rebels captured and then released them.
"It's clear there is a conspiracy to divide Libya," Libyan Foreign Minister Musa Kusa said.