Aborigines account for one quarter of Australia's prisoners, despite representing just 2.5 percent of the population, a report found Tuesday, describing the figures as a "national tragedy".
The "Doing Time" report, prepared by a government committee on Aboriginal affairs, said entrenched social and economic disadvantages meant younger generations were following their forebears into the criminal justice system.
Young Aborigines were 28 times more likely to be jailed than non-Aborigines, the report found, a "shameful state of affairs" that saw them accounting for 59 percent of the juvenile prison population.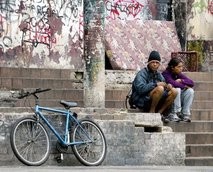 Young Aborigines were 28 times more likely to be jailed than non-Aborigines, a found Tuesday
It had been 20 years since a landmark inquiry into Aboriginal prison deaths that aimed to reduce jail rates, "yet the incarceration rate of indigenous Australians... is worse now than at any other time since", it added.
"Although indigenous Australians make up only approximately 2.5 percent of the population, 25 percent of prisoners in Australia are indigenous," the report said.
"This is a national tragedy, and questions must be raised as to why the situation has worsened so dramatically after the sweeping reforms recommended by the Royal Commission."
The number of Aboriginal men in custody had spiked 55 percent in the past 10 years, while there were 47 percent more indigenous women in prison -- a "disturbing" trend for community and family stability, the report said.
Total imprisonment rates for Aborigines grew 66 percent from 2000 levels, with 1,891 in every 100,000 indigenous people now behind bars.
"Intergenerational dysfunction" meant many young Aborigines were exposed to domestic violence, alcohol and drug abuse, poor housing, health and school attendance and a lack of job skills and employment opportunities.
"This situation is a national disgrace," it said, adding that government at all levels had "failed to adequately address this problem".
The committee urged "rapid and effective" action, including a review of alternatives to detention for Aboriginal youth and better programmes both inside prisons and post-release, aimed at successful reintegration into the community.
It called for quotas or dedicated seats in the nation's parliament for Aborigines and said greater engagement with and empowerment of indigenous leaders was key to reversing disadvantage.
Flying the Aboriginal flag in schools and using local indigenous languages to name school sports teams and classrooms were also among the committee's recommendations to boost pride in, and respect for, the nation's first people.
Australia's original inhabitants, the country's most impoverished minority, are believed to have numbered around one million at the time of white settlement, but there are now just 470,000 in a nation of 22 million.