The Asian Development Bank (ADB) has agreed to provide a 250 million USD loan for the Cambodian Ministry of Water Resources and Meteorology to develop agriculture, from Phnom Penh's VNA.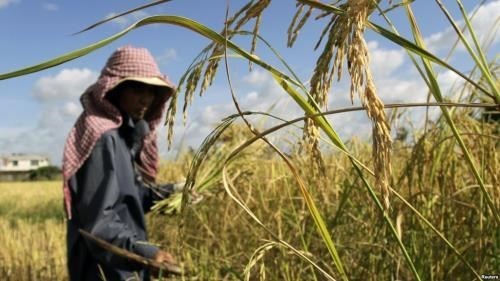 A farmer works in a rice paddy field outside Phnom Penh, Cambodia. (Photo: Reuters)
The information was announced at a meeting between Cambodian Minister of Water Resources and Meteorology Lum Kien Hor and ADB's Water Resources Specialist for, South East Asia Raza Farrukh in Phnom Penh on September 14.
The loan, to be provided for projects on upgrading and modernising irrigation systems and water management from 2018-2028, is expected to promote stable agricultural production and economic development, Farrukh said.
The funding is also expected to help local governments, communities and farmers to better manage their water resources, with focus on usage and maintenance of irrigational canal networks.
Cambodia produces over 9 million tonnes of rice per year, of which over 3 million tonnes are for export.
The country's agricultural production is dependent on natural elements with traditional cultivation techniques.
However the sector has maintained stable growth in recent years, helping turn the country into one of the world's largest rice exporters.-