Affluent Asians habitually stash away nearly a quarter of their monthly income, with South Koreans saving the most, a survey released Thursday showed.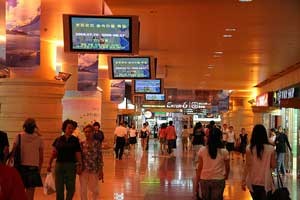 A busy concourse in the Seoul COEX mall. COEX stands for COnference and EXhibition. South Koreans save 31% of their earnings every month.
The survey, conducted by global payments firm Visa, showed that more than four in five top earners have maintained the region's savings ethic, regularly putting aside an average of 23 percent of their monthly income.
Koreans were the most thrifty, saving 31 percent of their earnings every month, followed by Chinese at 28 percent and Taiwanese at 26 percent.
"What we've found is that higher-income earners surveyed across Asia Pacific save about a quarter of their income which can enable them to take advantage of investment opportunities," said James Lim, regional head of consumer credit and debt for Visa.
The survey, conducted over three weeks in September-October 2008, involved more than 4,100 adults from the top 20-40 percent of households in eight economies that also included Australia, Hong Kong, India, Japan and Singapore.
Visa told AFP it believed its findings remain valid despite the financial and economic shocks that have taken place since the survey was conducted, with respondents prepared to reduce spending in tough times.
"To support the common-sense notion that most people will cut back on spending during difficult times, the survey already found that two-thirds of respondents will consider reducing their spending on certain items/activities," Lim said.
"However, essential everyday spending and one-off big purchases may prove less susceptible to economic fluctuations," he added.