PARIS, Sept 14, 2010 (AFP) - There will be no peace in Afghanistan until NATO forces leave, Islamist warlord Gulbuddin Hekmatyar warned Tuesday in an interview with the French daily Liberation and radio station RFI.
Hekmatyar is the leader of Hizb-e-Islami, an armed movement that -- along with the larger Taliban and Haqqani network -- is part of a loose coalition of insurgent forces fighting Western and Afghan government troops.
His group has had disputes with the Taliban in the past and there have been reports that it might be more ready than other insurgent groups to negotiate a settlement with Afghan President Hamid Karzai's government.
But Hekmatyar, who has had close ties with Al-Qaeda in the past, has also carried out some of the bloodiest attacks of the war and Washington dubs him a "Specially Designated Global Terrorist".
"Only the departure of occupation forces would lead to a halt in fighting," Hekmatyar said, in DVD video footage sent to the French reporters in response to a series of questions sent to him by e-mail, Liberation said.
In March, Hekmatyar sent a delegation to Kabul seeking to open dialogue.
Then in May, Afghan opposition figures met in the Maldives for talks with the Kabul government, at a meeting organised by Hekmatyar's son-in-law.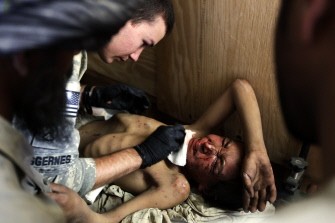 US medic Roy Heggernes with the 101st Airborne Division Alpha Battery 1-320th treats injured Afgan boy Abdul Qar, 13, at Combat Outpost Nolen before his evacuation on the outskirts of Arghandab Valley's Jellawar village on September 8, 2010. AFP
Those meetings raised hopes in some quarters that it might be possible to persuade some of the rebel groups to come to a negotiated settlement, or at least to divide the insurgency and to weaken the Taliban's hand.
But in Tuesday's interview, Hekmatyar played down the chances of a deal with Karzai's government, and reaffirmed that his party would boycott and "reject totally" this week's Afghan legislative elections.
"A calendar for the departure of foreign forces, agreed by everyone, should be established," he said, when asked what must happen before negotiations on a final settlement could begin.
"Then we'd have to debate the manner in which they leave, but the government in Kabul doesn't have the necessary authority, the occupation troops won't give them it," he warned.
"Afghans have no confidence in him and the mujahedeen can see that he has agreed to none of their conditions. There has been no response. This government is mute and useless."
Nevertheless, Hekmetyar did outline a roadmap for a future peace deal, which he said he had sent to Kabul earlier this year to be passed on to US President Barack Obama and European leaders.
"They recognise that there is no military solution and that they can not win through force of arms," he said. "We have proposed them a plan to bring an end to the conflict and allow them to withdraw their armies.