NAIROBI, March 31, 2011 (AFP) - With the war on AIDS nearing its 30th anniversary, the UN on Thursday declared "a moment of truth" had come for new strategies to address the campaign's failures and brake costs that were now unsustainable.
"We have a unique opportunity to take stock of the progress and to critically and honestly assess the barriers that keep us shackled to a reality in which the epidemic continues to outpace the response," UN Secretary General Ban Ki-moon said in a report issued in Nairobi.
The 30th anniversary of AIDS is generally recognised as June 5.
It marks the date in 1981 when US epidemiologists reported on mysterious cases of fatal pneumonia among young gays. In 1983, French scientists pinned the cause on a new pathogen, the human immunodeficiency virus (HIV), which destroyed the immune system in heterosexuals and homosexuals alike.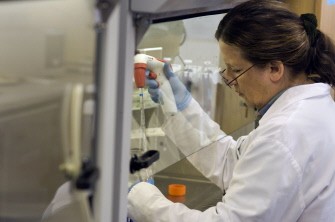 A medical technician works at the South African Tuberculosis Vaccine Initiative (SATVI) at Brewelskloof Hospital, on January 27, 2011, in Worcester, South Africa. The infant is one of 2,784 volunteers in a two-year-trial in South Africa's winelands that scientists hope will lead to a new jab against the lung disease that kills one person every 20 seconds worldwide. South Africa is a prolific testing ground with the world's second heaviest rate of TB after Swaziland, according to SATVI, and preys on weakened immune systems due to high HIV levels. AFP
"AIDS has claimed more than 25 million lives and more than 60 million people have become infected with HIV," Ban said in his progress report on the disease.
"Each day, more than 7,000 people are newly infected with the virus, including 1,000 children. No country has escaped the devastation of this truly global epidemic."
Ban said there had been many pluses over the past three decades, notably getting AIDS drugs to more than six million badly-infected people in poor countries.
But at this point, "the HIV response faces a moment of truth," he said.
Among the problems he highlighted was "a wholly unsustainable" rise in costs and a flatlining in resources, which have remained at under 16 billion dollars a year since late 2007.
More and more people are becoming infected, which means they will eventually join the numbers of patients who eventually need AIDS drugs, a treatment that has to be taken daily for the rest of one's life.
Ban spelt out ways by which countries could meet a target set last December 1 on World AIDS Day, of "zero new infections, zero discrimination and zero AIDS-related deaths" by 2015.
He called on member states to carry out a "prevention revolution," in which member states would commit to reducing sexual transmission of HIV by 50 percent by 2015.
Approaches should include new methods that have been validated by science, such as the use of male circumcision, which reduces the risk of female-to-male infection by around 60 percent. In the past two years, more than 200,000 men have been circumcised in 13 countries with a high prevalence of the HIV.
In the pipeline are promising trials involving a vaginal microbicide, to help women fend off HIV infection, and the use of AIDS drugs as a prevention against the virus, rather than treatment for it.
Ban also urged countries to ensure that all 13 million people who will need drugs by 2015 have access to them.
But a massive effort will be needed to brake the upward trajectory in costs, using smart but effective methods, he said.
He called for a 50-percent reduction in fatalities from tuberculosis, the leading cause of death among people with HIV, and for the elimination of the transmission of HIV from infected mothers to their babies.
"It is a grave global injustice that 370,000 newborns contract HIV in low- and middle-income countries each year, while vertical transmission has been virtually eliminated in high-income countries," Ban said.
The UN chief also called for a bonfire of the regulations that targeted people with HIV. He urged member states to commit to reducing by half the number of countries with HIV-related restrictions on entry, stay and residence.
The appeal is the third major initiative on AIDS to be launched by the United Nations in the past decade.
The two previous ones were the "Three by Five" goal of providing three million people with AIDS drugs by the end of 2005, and the objective of universal access to these drugs by the end of 2010.
Both initiatives fell wide of their mark although the UN says they generated momentum, especially in building medical infrastructure in poor countries.