SAILGOH CAMP, Uzbekistan (AFP) – Urgent foreign aid Thursday started reaching desperate refugees who fled deadly clashes in Kyrgyzstan into Uzbekistan, as the Red Cross sounded the alarm over an "immense crisis."
Just inside the Uzbekistan border, refugees trickled into a camp where UN agencies UNHCR and UNICEF erected hundreds of white and green tents overnight, an AFP correspondent said.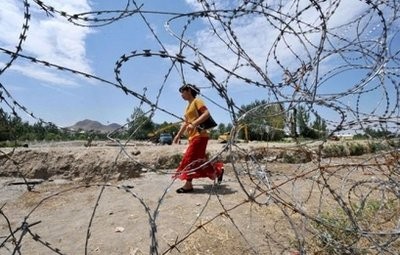 A woman walks past barbed wire in the village of Nariman outside Osh. AFP photo
Uzbekistan has said it received more than 75,000 refugees from the ethnic clashes while aid agencies have said another 200,000 have been displaced within Kyrgyzstan itself.
Fewer than 1,000 refugees were at the camp, where aid workers were handing out clothing and blankets, but thousands more were expected to eventually be brought from temporary refugee centres set up by the Uzbek government.
Refugees said they were in desperate need of supplies after fleeing from the five days of clashes between ethnic Kyrgyz and Uzbeks that rocked Kyrgyzstan in the past week, killing at least 191 people according to a new government toll.
"First of all we need clothes and medical supplies, especially for the children, because when we fled our homes we just ran away and couldn't take anything with us," Halima Otajonova, a 41-year-old mother of two, said at a refugee centre at a stadium in the Uzbek town of Khanabad.
"Some of us even ran away in bare feet, without shoes."
Attacks have died down in recent days in Osh and Jalalabad, the Kyrgyz cities at the centre of the fighting.
Kyrgyz interim deputy prime minister Azimbek Beknazarov said Thursday: "It was quiet and calm overnight in Osh, life is slowly returning to normal."
With the violence subsiding, focus was turning to the massive humanitarian crisis facing the region.
Two planes carrying hundreds of tents supplied by UNHCR have arrived in Uzbekistan and four more were due by the end of the week, officials said.
A planeload of relief supplies from the International Committee of the Red Cross including blankets, tarpaulins, cooking utensils and soap also landed in southern Kyrgyzstan and another in eastern Uzbekistan.
"It's an immense crisis," said Severine Chappaz, the ICRC deputy head in Kyrgyzstan, in a statement.
The insecurity and fear and shortages of basic necessities such as food, water, shelter and medicine were putting a "tremendous strain" on efforts to help the displaced in both Kyrgyzstan and Uzbekistan, the ICRC said.
Amid fears the death toll could be much higher than official figures, the ICRC said that according to its workers "several hundred people" had been killed in the fighting.
Refugees on both sides of the border have recounted horrific stories of torture and rape at the hands of heavily armed mobs whom they accuse of conducting a brutal campaign to push ethnic Uzbeks out of Kyrgyzstan.
An AFP correspondent in Osh, much of which was reduced to smouldering rubble by the fighting, said the city was for the moment calm as the government tried to assert control.
In Osh and Jalalabad, AFP correspondents have seen buildings daubed with "KG", to mark ownership by ethnic Kyrgyz, left untouched by the violence.
Kyrgyzstan's leaders have blamed the violence on ex-president Kurmanbek Bakiyev, who was ousted in protests in April. Bakiyev, who took refuge in Belarus, has denied the charges.
Kyrgyz health ministry official Dinara Sagynbayeva said 191 people were killed in the violence with 1,971 wounded.
The riots were the worst inter-ethnic clashes to hit the impoverished Central Asian state since the collapse of the Soviet Union. Uzbeks make up 14 percent of Kyrgyzstan's population of 5.3 million.