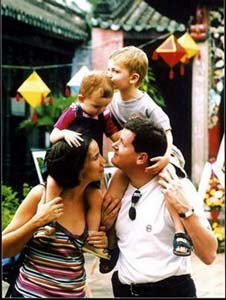 Foreign tourists in Hoi An (Photo: Thai Tuan Kiet-the second prize in the photo contest Viet Nam in my eyes)
Asia-Pacific tourism ministers meeting in Viet Nam Tuesday said more direct air links between world heritage sites could boost the travel industry in a region home to 2.6 billion people.
The Asia-Pacific Economic Cooperation (APEC) meeting in the ancient port of Hoi An, a UNESCO world heritage site, was looking at ways to strengthen cooperation in sustainable tourism in the group of 21 nations.
"We would like to encourage member economies to urge their airlines and governments to open more direct flights between secondary cities," said Mr. Pham Quang Hung of Viet Nam's National Tourism Administration.
"There are so many UNESCO recognised heritage sites in APEC economies and we're trying to encorage air links to save time and to encourage travel."
Asian APEC members boast some of the world's most famous world heritage sites, including Indonesia's Borobudur temples, Viet Nam's Hue citadel and Ha Long Bay seascape, and Thailand's ancient capitals of Ayutthaya and Sukhotai.
Delegates also proposed creating a rotating APEC tourism fair to improve public-private partnerships, while Japanese delegation head Ken Harura suggested APEC members promote more youth exchanges and twin city ties.
Tourism now employs over 100 million people in the APEC region, with 30 million more jobs expected by 2010, when the industry will be worth over three trillion dollars a year, according to the World Travel and Tourism Council.
"In addition to supporting job growth in the hospitality and transportation industries, tourism has been proven to support complementary sectors as well," said Ms. Vo Thi Thang, also of Viet Nam's tourism administration.
"Improving skills for workers in the service sector encourages more visitors, leading to a better experience for tourists and ultimately to greater spending in the Asia-Pacific region," said Ms.Thang.
Representatives of China, Japan and Republic of Korea said the region had faced challenges including earthquakes, the 2004 tsunami and bird flu.
"Despite the challenges such as natural disasters and the threat of a pandemic outbreak of avian influenza, the industry has made significant strides in recent years," Ms.Thang said.
Host country Viet Nam is one of the APEC members that has benefited much from intra-regional tourism. Almost 70 percent of its visitors in the past five years have come from APEC member economies.
Viet Nam signed tourism cooperation agreements with Russia and the Philippines at the meeting and held talks with other delegations, including those of China and Japan, state media reported.
Viet Nam also showed off its own tourism potential, inviting delegates to tour Hoi An and the nearby My Son Sanctuary, both cultural world heritage sites of the UN Educational, Scientific and Cultural Organisation (UNESCO).
Hoi An was badly hit two weeks ago by Typhoon Xangsane, which left more than 70 people dead and injured over 500 in Viet Nam, but damage to many of the town's tourism facilities had been fixed by this week, officials said.
APEC, established in 1989, works by consensus and makes no binding commitments. Its members span four continents, are home to over 2.6 billion people and represent 57 percent of global economic output, APEC says.