TRIPOLI (AFP) – Loud blasts rocked the Libyan capital Tripoli for the 11th night in a row Tuesday as world powers began debating whether to arm the rag-tag rebels seeking to oust strongman Moamer Kadhafi.
France is prepared to hold discussions on supplying military aid to Libyan rebels fighting Kadhafi's forces, Foreign Minister Alain Juppe said at a London conference to map out a post-Kadhafi future in the north African nation.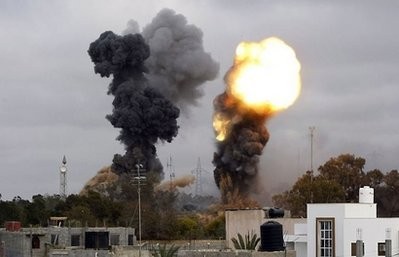 AFP - Smoke billows as explosions were reported in the tightly-guarded residence of leader Moamer Kadhafi and military targets in the suburb of Tajura
US President Barack Obama, who has staunchly laid out the moral imperative for protecting Libyan civilians caught in the battle, also said he did not rule out arming Libyan rebels as they seek to make territorial gains.
"I'm not ruling it out. But I'm also not ruling it in. We're still making an assessment partly about what Kadhafi's forces are going to be doing," Obama told NBC in an interview.
But he added he believed Kadhafi would eventually quit.
"Our expectation is that as we continue to apply steady pressure, not only militarily but also through these other means, that Khadafi will ultimately step down," Obama said.
Forces in the rebel stronghold of eastern Benghazi, one of the first places to fall to the rebels at the start of the uprising now in its sixth week, said French and US diplomatic envoys were on their way to city.
A spokesman for the rebel Transitional National Council, Mustafa Ghuriani, told reporters "it would be naive to think we are not arming ourselves" to match the weaponry deployed by Kadhafi loyalists.
But he declined to confirm or deny that France and the United States were offering to supply arms, saying only that unspecified "friendly nations" were backing the rebels.
The rebels, seeking to end Kadhafi's 40-year rule, have been emboldened by 10 days of coalition air strikes on the Libyan leader's forces, but have met a barrage of fire halting their march west towards the capital, Tripoli.
They were forced to retreat 40 kilometres (25 miles) Tuesday from their frontline positions to Nofilia, 100 kilometres (60 miles) from Sirte, Kadhafi's birthplace and the rebels' next target as they head west.
Under barrages of artillery fire, rebel fighters stampeded from the scene, many fleeing aboard pickup trucks, halting an advance launched when Britain, France and the United States started UN-mandated air strikes on March 19.
Two loud explosions rocked the Libyan capital Tripoli late Tuesday close to Kadhafi's tightly guarded residence and military targets in the suburb of Tajura were also hit, an AFP correspondent reported.
The first explosion was heard around 1630 GMT, followed by a second some three minutes later in the Bab Al-Azizya district, closely followed by the whine of ambulance sirens.
Seven other explosions were also reported in Tajura, site of several military camps and an almost-nightly target of the air raids.
However, NATO's top commander said there was no alliance representative on the ground in Libya to work with rebel forces and that he had no orders to supply the opposition with weapons.
Admiral James Stavridis also said the alliance was working to get a clearer picture of the opposition, amid intelligence reports that showed "flickers" of a possible Al-Qaeda presence.
Western powers have called for Kadhafi to go, angering the eccentric leader, who issued a defiant letter likening the NATO-led strikes to the military campaigns launched by Adolf Hitler during World War II.
"Stop your barbaric, unjust offensive on Libya," he said in the letter. "Leave Libya for the Libyans. You are committing genocide against a peaceful people and a developing nation."
But opening the London talks, British Prime Minister David Cameron said the air strikes were helping to protect civilians from "murderous attacks" by Kadhafi's forces especially in the western rebel-held town of Misrata.
"Kadhafi is using snipers to shoot them down and let them bleed to death in the street," Cameron told the conference.
Tanks and troops loyal to Kadhafi swept through Misrata on Tuesday, firing shells as they attacked Libya's third city, 214 kilometres (132 miles) east of Tripoli, a rebel spokesman said. He warned of a "massacre" ahead.
Rebels have said that Kadhafi forces expelled more than 5,000 families from their homes in the western part of the city.
"Hundreds of families have found refuge in schools and mosques. The situation is very dangerous, very delicate," a rebel spokesman said.
A doctor in the city said 142 people had been killed and 1,400 were wounded since March 18. Rebels said a hospital ship was expected to dock Tuesday in Misrata.
More than 40 nations and organisations gathered in London agreed to create a contact group to map out a future for Libya and to meet again as soon as possible in the Arab state of Qatar.
A rebel envoy, Mahmud Jibril, was also in London and met on the sidelines of the talks with Clinton, British Foreign Secretary William Hague and the foreign ministers of France and Germany.
"A consensus has been reached, participants at the meeting unanimously said that Kadhafi must leave the country," Italian Foreign Minister Franco Frattini said.
"Beyond that, it depends on the country which may offer to welcome Kadhafi. There is as yet no formal proposal, no country has formulated such a plan, even the African countries which may be ready to make one."
Cameron and US Secretary of State Hillary Clinton said the allied air strikes would go on until the Libyan leader met UN demands for a ceasefire.
And the US diplomatic chief also said that although UN sanctions prohibit the delivery of arms to the country, the ban no longer applies.
"It is our interpretation that (UN Security Council resolution) 1973 amended or overrode the absolute prohibition on arms to anyone in Libya, so that there could be a legitimate transfer of arms if a country should choose to do that," she said.
France's foreign minister, however, admitted that arming or training the rebels was not covered in the UN Security Council resolutions.
"Having said that, we are prepared to discuss this with our partners," Juppe told reporters.
Britain has been more circumspect about providing military aid to the rebels. "We are not arming the rebels, we are not planning to arm the rebels," Defence Secretary Liam Fox told the BBC at the weekend.