KUALA LUMPUR, Sept 21, 2010 (AFP) - Malaysia's long-haul budget airline AirAsia X will launch its Kuala Lumpur-Tokyo route in December with promotional fares as low as 31 dollars, the carrier's chief executive said Tuesday.
The airline will commence direct services to Tokyo's Haneda Airport on December 9 with three flights a week.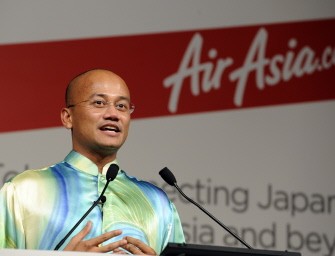 AirAsia X CEO Azran Osman Rani announces a 5,000yen price or 58 USD for the campaign price of a one way ticket between Tokyo and Kuala Lumpur during a press conference at a Tokyo hotel on September 21, 2010. AFP
"We are pleased our long standing ambition has finally pulled through and as the largest metropolitan city in the world, Tokyo represents an important feeder market into our growing international network," AirAsia X chief executive Azran Osman-Rani said in a statement.
Azran said the Tokyo service would strengthen business and tourism links with Japan and provide affordable international travel.
AirAsia X already flies to Australia, India, Taiwan, China, Europe and South Korea.
An affiliate of regional low-cost carrier AirAsia and Virgin Group, AirAsia X was launched in January 2007. AirAsia and AirAsia X have common shareholders, including AirAsia founder and CEO Tony Fernandes.
AirAsia X in June said it was planning an initial public offering next year to fund the acquisition of 27 new Airbus aircraft as it expands its routes.