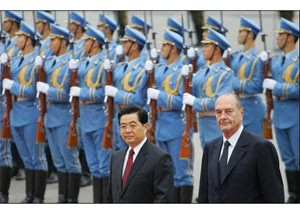 Visiting French President Jacques Chirac (R) beside Chinese President Hu Jintao (R) during a review of the honour guard in Beijing
Airbus Thursday won a Chinese order of 150 A320 aircraft and agreed to set up a plant in China in a deal seen as giving the European giant a launchpad into the world's most lucrative aviation market.
The multi-billion-dollar arrangement, one of 13 deals signed during a visit by French President Jacques Chirac to Beijing, was accompanied by an option for China to buy 20 of Airbus' new wide-body A350 planes.
The Airbus A320 assembly plant, to be located in the north Chinese port city of Tianjin not far from Beijing, will complete its first aircraft in 2009 and will subsequently manufacture four a month, the aircraft maker said.
"It's a means for us to develop a long-term vision with the Chinese," Louis Gallois, the chief executive of the European aerospace giant, told reporters.
"It's clear that building the planes in China will give the Chinese an incentive to buy more of our aircraft," he added.
No figures were immediately available about the value of the 150-plane deal although estimates based on the list price of the aircraft were as high as 10 billion dollars.
It follows China's order last year of another 150 Airbus planes, also with a list price of nearly 10 billion dollars, which was signed when Chinese Premier Wen Jiabao visited France.
Airbus has previously published estimates that potential sales among all airlines in China over the next 20 years will total around 1,600 planes.
The European company is seeking to undercut US rival Boeing which has about two thirds of the lucrative Chinese civil aviation sector and says it is aiming for a 50-percent market share.
Analysts said Thursday's developments could be significant in helping Airbus achieve its goal.
"Sino-Europe relations are becoming ever more intimate and there is also more generosity when it comes to technology transfer," said Li Lei, an aviation analyst with CITIC Securities. "This is definitely a challenge for Boeing."
Ian Thomas, a consultant at the Centre for Asia Pacific Aviation in Australia, said Thursday's Airbus deal "reflects the increasing growth and focus of the China domestic market.
"It also reflects the development of more short-haul services within that market. The A320 is specifically geared towards that area," he said.
The A320, a medium-range, single-aisle twin-engine jet capable of carrying up to about 180 passengers, remains the European company's most popular aircraft after 17 years on the market.
It is in direct competition with Boeing's 737 model and targets the same fast-growing segment of Chinese aviation.
In June, China's National Development and Reform Commission, the national planning agency, approved the plans for a plant in Tianjin, calling the move an important step for the nation's aviation industry.
China has repeatedly stated its ambition of building large passenger jets by 2020 although it is still struggling to develop a market for domestically built jets of 70 to 90 seats.
Airbus will hold a 51 percent stake in the Tianjin facility, according to sources close to the negotiations between Airbus and China.
In another deal signed Thursday, Alstom SA of France inked a contract worth 1.2 billion euros (1.5 billion dollars) for the delivery of 500 freight locomotives to China, according to the agreement seen by an AFP reporter.
Alstom will link up with China's Datong Electric Locomotive to deliver the trains, with Alstom's share of the contract coming to 300 million euros (380 million dollars), the agreement said.
Alstom will be in charge of designing the locomotives, described by Alstom Chief Executive Patrick Kron as "the most powerful in the world."
The first 110 of the locomotives will be produced at Alstom's plant in Belfort, France, before production moves to facilities in north China operated by Datong Electronic Locomotives.