CAIRO, Aug 27, 2011 (AFP) - A convoy of six armoured cars that could be carrying high Libyan officials, even fugitive leader Moamer Kadhafi, crossed from Libya into Algeria on Friday, the official Egyptian news agency reported quoting a Libyan rebel source.
The report could not immediately be confirmed from Algerian or Libyan sources.
The news agency, MENA, said six armoured Mercedes had Friday morning entered Ghadames. It quoted a Libyan military council source in the town on the border with Algeria.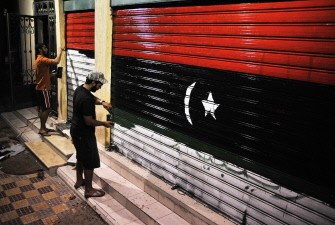 AFP- A man paints the Libyan flag on a door in Zuwara, West Libya on August 26, 2011
The source was quoted as saying the column had been escorted by pro-government troops until it entered Algeria. Rebels had not been able to pursue the vehicles as they lacked munitions and equipment.
"We think they (the cars) were carrying high Libyan officials, possibly Kadhafi and his sons," the source said.
Kadhafi has been on the run since the rebels took the Libyan capital Tripoli this week.
Algeria declined to recognise the Libyan rebels' National Transitional Council on Friday, insisting it would adhere to the policy of "strict neutrality" adopted since the start of the conflict.
A foreign ministry statement sent to AFP was the first official comment from Algiers since the NTC took control of the capital in neighbouring Libya, even as other countries in the region have been quick to endorse the rebels' victory.