Six southeast Asian nations signed trade agreements on Tuesday paving the way for a single market in the region, pressing on with the pacts despite the postponement of a key summit.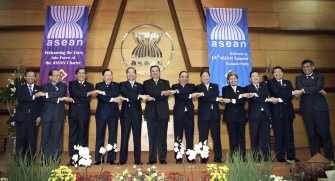 This handout photo shows ASEAN leaders attending the ceremony of "Welcoming the Entry into Force of ASEAN Charter" in Jakarta on December 15, 2008.
The economic ministers of Brunei, Cambodia, Indonesia, Laos, Singapore and Malaysia signed three separate deals covering trade in goods, investment and services.
They had decided to press on with the signing rather than wait for a summit of the Association of Southeast Asian Nations (ASEAN) that was delayed by recent unrest in Thailand.
"As these agreements are integral to ASEAN's economic integration, the ASEAN economic ministers agreed to meet in Singapore to sign and have them enter into force as soon as possible," said Malaysian Trade Minister Muhyiddin Yassin.
The three agreements were originally to be signed at the 10-member ASEAN's annual summit in Thailand this month, officials said.
Anti-government protests in Thailand, which currently chairs ASEAN, forced that country's former government to move the summit from Bangkok to the northern city of Chiang Mai, and then to postpone it until March.
After Thailand's opposition leader Abhisit Vejjajiva was elected Monday as the country's new prime minister, the foreign ministry said the summit will be held from February 24-26.
"The economic ministers felt that we should proceed" to sign the trade deals without delay before February, Singapore's Minister for Trade and Industry, Lim Hng Kiang, told reporters on Tuesday.
"We felt we should have a meeting, sign and press on because if you postpone everything till end February we lose two months."
The documents signed Tuesday have taken on added importance during a global economic crisis, Lim said.
ASEAN has made itself more attractive to foreign investment but, with the world in a credit crunch, the level of foreign investment will fall over the next two years, he said.
"And if ASEAN cannot portray itself as a more attractive venue I think then we lose out."
Indonesia's Trade Minister Mari Pangestu also stressed the need for ASEAN to forge closer economic ties in light of the global financial crisis.
"I think from the ASEAN perspective, it was important for us to ensure that we don't experience any delays in the progress that we have achieved in terms of the ASEAN economic community," she told AFP after the signing ceremony.
Asked if the crisis would affect ASEAN's integration goals, she said: "One would hope not because I think we have all the interest to make sure that this continues to work."
She added: "If the global situation becomes more uncertain, then making regional cooperation and integration work will make you stronger."
The agreements signed Tuesday liberalise trade in services and grant benefits to investors.
The third covers trade in goods. Tariffs on most goods had already been cut to between zero and five percent as part of ASEAN's plan to establish a single market and manufacturing base by 2015.
Besides the six nations attending Tuesday's signing ceremony, the other four ASEAN countries -- Vietnam, the Philippines, Thailand and Myanmar -- were due to sign at a later date, officials said.