Asia must boost domestic consumption and end its dependence on exports as external demand plunges in the world economic slump, the Asian Development Bank said Sunday.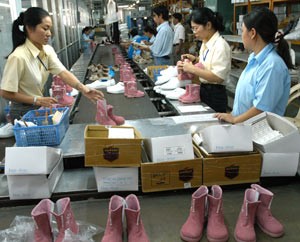 Producing children's shoes for export at a footwear factory in Ho Chi Minh City, Vietnam
The call was echoed by regional finance ministers gathered at the ADB's annual meeting on the Indonesian resort island of Bali, where strategies for overcoming the worst financial crisis in 70 years took centre stage.
Meanwhile the finance ministers of the Association of Southeast Asian Nations (ASEAN) plus China, Japan and South Korea moved closer to the creation of a regional currency pool designed to bolster crisis-hit economies.
Japanese Finance and Economy Minister Kaoru Yosano said Japan and China had each agreed to chip in 38.4 billion dollars for the 120-billion-dollar scheme known as the Chiang Mai Initiative.
ADB President Haruhiko Kuroda said Asia's main export markets had experienced a "massive contraction in demand" since the implosion of the US mortgage market triggered the global banking crisis last year.
The flow-on effect had seen interest rates on bonds spike higher and Asian currencies depreciate with the flight of foreign capital out of emerging markets, he told a seminar alongside Asian finance ministers including Yosano.
Asian governments have responded by slashing benchmark lending rates and spending billions of dollars to stimulate their economies.
But Kuroda said such measures would not be enough without structural reform to end the region's dependency on demand from rich countries.
"Over the longer term, developing Asia is starting the process of rebalancing growth from excessive dependence on external demand to greater resilience on both consumption and investment," he said.
"Already there are signs that domestic consumption is remaining strong in Asia and may well lead the way out of this downturn."
The ADB is predicting growth of 3.4 percent for the region this year, compared with more than nine percent in 2007.
The bank plans to increase its overall lending assistance by more than 10 billion dollars in 2009 and 2010, including three billion to support more fiscal stimulus spending.
That would bring total ADB assistance during the period to about 32 billion dollars, compared with about 22 billion dollars in 2007 and 2008, it said.
The increased lending is possible thanks to a decision by member states last week to triple the ADB's capital base, from 55 billion dollars to 165 billion.
Some critics said the move was unnecessary given the massive reserves of member countries such as China and India, while others said it meant a "dangerous" expansion of lending by a bank with a record of weak oversight.
Chinese Vice Finance Minister Li Yong, Indian Finance Secretary Ashok Chawla and Indonesian Finance Minister Sri Mulyani Indrawati were among the officials who backed Kuroda's calls for efforts to stimulate domestic consumption.
They called for traditional methods such as greater spending on infrastructure, but also stressed the need for more investment in education and social safety nets to give Asian consumers, especially the poor, the confidence to spend.
The ADB says the economic crisis has kept some 60 million Asians in extreme poverty who otherwise would have been able to improve their standards of living.
In addition to the Chiang Mai swap pool, Yosana said Japan was considering a scheme to offer yen swaps worth up to six trillion yen (60.4 billion dollars) to be tapped in emergencies.
Such swap agreements can be tapped to ease liquidity trouble as they boost the amount of foreign currency regional banks can access while helping companies that use foreign currencies when trading.
The ADB has said growth could lift to around six percent in developing Asia next year.
The bank focuses on lending for poverty alleviation in Asian developing nations and has 67 member countries including 19 from outside Asia.