Asian markets mostly fell Wednesday as dealers ignored a surge on Wall Street, with worries about the global economy continuing to weigh on sentiment while Japan's credit rating was cut.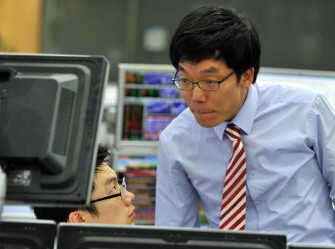 A currency trader monitors exchange rates in a dealing room at the Korea Exchange Bank in Seoul on August 23, 2011. South Korean shares ended 3.86 percent higher amid bargain hunting and talks of possible new US stimulus measures that had boosted Wall Street shares overnight.
The dollar slipped against the yen on disappointment over a Japanese plan to halt its currency's rise, which hit a post-war record last week, with many dealers saying the government was not bold enough, analysts said.
Most regional bourses began on a high after the three main indexes in New York posted huge gains on hopes that Federal Reserve chairman Ben Bernanke will announce a fresh round of monetary easing to kickstart the US economy.
However, they soon retreated, with nervousness stoked by a downgrade by Moody's of Japan's credit rating, citing the country's high debt levels and budget deficit.
Tokyo lost 0.52 percent, Hong Kong fell 0.81 percent by the break, Seoul gave up 0.76 percent and Taipei was 0.90 percent lower while Sydney was flat but Shanghai gained 0.17 percent.
Traders were given a strong lead from the United States, where the Dow soared 2.97 percent, the S&P 500 leaped 3.43 percent and the Nasdaq climbed 4.29 percent ahead of a key speech by Bernanke this week.
Expectations are high that the Fed chief will announce new plans -- such as a third round of quantitative easing -- to deal with the stagnating US economy, which many fear could fall back into recession.
US markets were also given a lift by better-than-expected manufacturing data from China and the eurozone.
However, the upbeat sentiment was dented by the decision by Moody's to cut Japan's bond rating to Aa3 from Aa2, citing the "large budget deficits and the build-up in Japanese government debt since the 2009 global recession".
It is the first time since the March 11 earthquake and tsunami that a major ratings agency has downgraded its sovereign debt. Moody's said the outlook was stable.
The news sent the dollar up to 76.77 yen in Tokyo morning trade from 76.68 in New York late Tuesday.
However the greenback eased to 77.62 after Japan's Ministry of Finance set out measures to deal with the strong yen. The yen hit a record high 75.95 on Friday.
Finance Minister Yoshihiko Noda unveiled Wednesday a $100 billion facility to ease the impact of the surging unit on companies.
"When the MoF said that the finance minister will say something about steps against the strong yen, we had something more aggressive in mind," senior dealer at a major Japan bank told Dow Jones Newswires.
The euro inched down to $1.4397 from $1.4436. The European single unit was down at 110.73 yen against 110.69.
On oil markets Brent crude rose to nearly $110 a barrel, underpinned by the crisis in oil-rich Libya, analysts said.
In morning trade, Brent North Sea crude for October delivery advanced 50 cents to $109.81 a barrel from Tuesday's close of $109.31.
New York's main contract, West Texas Intermediate (WTI) light sweet crude for October delivery added 18 cents to $85.61 a barrel.
Brent had tumbled Monday on news Libyan rebels were close to ending the 42-year reign of Moamer Kadhafi but the price rose again as it became clear oil output from the country would take some time to return to normal.
The contract is more affected than WTI by the situation in Libya as oil from the North Sea as well as from Libya serve the European markets.
Around 85 percent of Libyan oil output was exported to Europe until the revolt began six months ago.
Gold opened in Hong Kong at $1,844.00-$1,845.00 an ounce, down from Tuesday's close of $1,875.00-$1,876.00.