HONG KONG, Aug 10, 2011 (AFP) - Asian stocks rallied in early trade Wednesday, part of a global uptick after the US Federal Reserve pledged to keep interest rates near zero for at least two years.
Tokyo rose 1.05 percent, or 94.26 percent, to 9,038.74, Sydney added 2.64 percent, or 106.5 points, to 4,141.3 and Seoul gained 0.27 percent, or 4.89 points, to 1,806.24.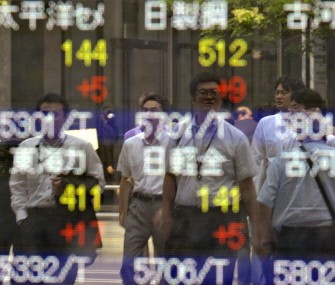 AFP - Pedestrians are reflected on a share prices board in Tokyo on August 10, 2011
Hong Kong was up 1.79 percent in the afternoon after a disastrous showing on Tuesday when it lost 5.66 percent, while Shanghai gained 0.90 percent and Mumbai was 1.57 percent higher.
Regional markets were following Wall Street, where shares jumped after a dovish Fed admitted economic growth this year had been "considerably slower" than expected, and indicated inflation fears had eased.
The bank's policy committee stopped short of offering a successor to the $600 billion "QE2" stimulus programme that wound up in June, though it said it was reviewing available tools to boost a slowing economy.
But the announcement on interest rates was enough to give some very decent support.
Wall Street staged an impressive rally in the final minutes of New York trade, with the Dow finishing up 3.98 percent, or 430 points, at 11,239.77. The index had been 200 points down 45 minutes before the close.
The broader S&P 500 climbed 4.74 percent, while the tech-heavy Nasdaq jumped 5.29 percent.
Those gains came on the heels of a turnaround in Europe, where falls as large as six percent were reversed.
London's FTSE-100 index gained 1.89 percent and in Paris the CAC-40 rose 1.63 percent. In Frankfurt the DAX slipped 0.10 percent.
"Market sentiment hasn't stabilised yet, so while we'll likely see a relief rally today, it'll be a rocky path to recovery," Toshiyuki Kanayama, market analyst at Monex, said.
In Seoul the decision to ban the short-selling of all listed stocks for three months effective from early Wednesday helped to cool the selling frenzy.
"But it's hard to estimate the extent of anticipated KOSPI gains for the day, given such steep losses in recent days and the (Dow's) surge," Tong Yang Securities analyst Lee Jae-Mahn told Dow Jones Newswires.
Sentiment was positive in Sydney, which staged a stunning turnaround on Tuesday to fully recover from a slump of more than 5.5 percent.
"It's a much more pleasant open to Australian trade today as stocks follow the big snap-back rally on Wall Street," said IG Markets analyst Ben Potter.
"Whilst it is very positive to see the gains, the big question is going to be how long the rally lasts before participants are faced with the question of whether this is just a bounce, like it usually is, or is actually a meaningful bottom."
Crude recovered a little in tandem with Asian equities, with New York's main contract, light sweet crude for delivery in September, up $2.42 to $81.72 per barrel in the afternoon. Brent North Sea crude for September delivery added $2.30 to $104.87.
The gains came on the back of recent steep falls and despite the downbeat assessment of economic prospects in the US, the world's largest oil consumer.
Gold opened in Hong Kong at $1,753.80 to $1,754.80 dollars an ounce, up from its stateside close around $1,744, but well down on the record high it hit in volatile Tuesday trade above $1,780.
The dollar edged down against the yen, trading at 76.75 yen in Tokyo, from 76.94 yen in New York late Tuesday.
The euro was also rangebound against the dollar and the yen. The European common currency dipped to $1.4322 from $1.4374 while it edged down to 109.89 yen against 110.50 yen.

In other markets:
-- Taipei surged 3.25 percent, or 243.20 points, to 7,736.32.
Taiwan Semiconductor Manufacturing Co was 3.95 percent higher at Tw$65.8 while leading food maker Uni-President Enterprise gained 6.02 percent to Tw$43.15.
-- Manila closed 3.20 percent, or 133.11 points, higher at 4,290.14.
Lepanto Consolidated Mining rose 6.67 percent to 1.28 pesos, Philex Mining surged 8.40 percent to 27.10 pesos and Ayala Corp. gained 1.99 percent to 308 pesos.
-- Wellington rose 2.77 percent, or 85.96 points, to 3,183.74.
Telecom Corp. rose 1.5 percent to NZ$2.405, NZ Oil & Gas lifted 3.3 percent to NZ$0.63 and Air New Zealand surged 4.6 percent to NZ$1.13.