Asian stock markets suffered fresh losses Friday as fears grew that the financial crisis is taking a heavy toll on corporate earnings in the region.
Worries of a global recession continued to weigh on the minds of investors, who largely ignored the Dow Jones' overnight rise on Wall Street.
"Wall Street closed higher overnight, but it was only a marginal gain after massive selling. The direction of global markets has not changed," said Daisuke Uno, chief market strategist of Sumitomo Mitsui Banking Corp.
Japan's Nikkei stock index tumbled 4.89 percent by lunch. Sony Corp. shares plunged 12 percent after the tech giant warned profits are expected to drop more than half this year due to a stronger yen and weak global economy.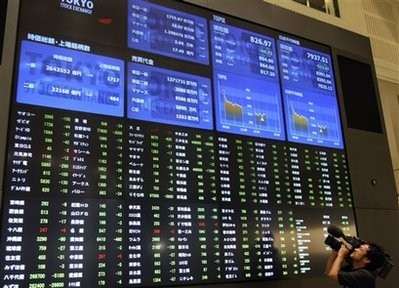 A TV cameraman film the digital stock board on the Tokyo Stock Exchange as Japan's key stock index nose-dived 9.6 percent on a rising yen and growing recession fears in Tokyo Friday, Oct. 24, 2008.
"Looking at the volatility on Wall Street, the trend on overseas markets and the higher yen, it's no surprise Tokyo share prices are falling," said Uno.
Japanese companies rely heavily on overseas markets and a stronger yen can have a severe impact on their repatriated earnings.
Tokyo was not the only market under pressure. Hong Kong share prices opened 2.1 percent lower while Australian share prices dropped 1.1 percent by noon and Singapore shares declined 2.15 percent.
Three of Australia's biggest investment firms said they had frozen at least 3.66 billion US dollars' worth of investors' funds to stem an exodus sparked by a government deposit guarantee.
South Korean shares slid 3.5 percent -- a day after a 7.4 percent plunge -- after the government said the domestic economy grew at its slowest pace for four years and Samsung Electronics reported a sharp drop in quarterly profit.
"The market seems to be still in panic," Lee Kyung-Soo, from Taurus Investment & Securities, told Dow Jones Newswires.
Risk aversion continued to support the yen, particularly against higher-yielding currencies such as the euro, the Australian dollar and the British pound.
The dollar fell to 96.50 yen, down from 97.27 late Thursday in New York. The euro slipped below 123 yen for the first time in almost six years.
Governments around the world have pumped cash into the banking system in recent weeks to try to contain what former Federal Reserve chairman Alan Greenspan described Thursday as a "once-in-a-century credit tsunami".
While there have been some tentative signs of an easing of the credit crunch, concerns are growing about the worsening outlook for economic growth and corporate earnings.
"The theme of weaker global growth has replaced the issue of troubled banks for now and continues to weigh on investor psyches," said analysts at UBS.
"The focus remains on weak earnings, economic data and widening sovereign credit default spreads," they added.
Wall Street's share indexes closed mostly higher Thursday in a volatile session as White House spokeswoman Dana Perino warned the US economy faced "a rocky road on the employment front."
The Dow Jones Industrial Average rose 2.02 percent, but the tech-rich Nasdaq slipped 0.73 percent.
European markets ended mixed. The FTSE 100 closed with a gain of 1.16 percent and in Paris the CAC 40 rose 0.38 percent, while Frankfurt's Dax fell 1.12 percent.
In Latin America, the stock market in the region's biggest economy, Brazil, closed 3.57 percent lower, extending Wednesday's loss of more than 10 percent.