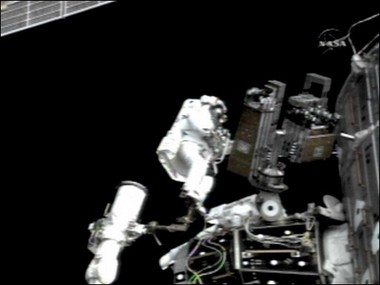 US space shuttle Discovery US Mission Specialist Sunita Williams rides the shuttle's robot arm on Dec. 16, 2006 (AFP/NASA)
Astronauts have failed to dislodge a stuck solar array on the International Space Station, setting the stage for a likely fourth space walk just to solve the problem.
Robert Curbeam and Sunita Williams ended their space walk at 0256 GMT Sunday, after seven and a half hours of working as electricians in space. They completed a delicate rewiring of the ISS but were unable to get the jammed panel to fold into its box.
"They have made some progress ... but it's likely we will have a fourth EVA (extravehicular activity) Monday," a NASA spokesman said, using US space agency speak for a space walk.
"The management team is analysing the data but they have already told the crew to be prepared for an EVA," the spokesman said.
Earlier Saturday NASA officials approved a possible fourth space walk if the team was unable to unstick the array.
Having finishing their scheduled tasks in little more than five hours, the two astronauts worked on the jammed solar panel, with one of them pushing on the box into which the array is supposed to fold in an attempt to free what NASA called "apparently misaligned guide wires."
If ordered to do a fourth walk, Curbeam would be joined by another crewmember on Monday. The new space walk would push the shuttle's scheduled landing in Florida back one day to Friday.
A delay would halve the shuttle's two-day safety cushion for return to Earth. The shuttle would only have one day's supply of oxygen and electrical power left, requiring a landing by next Saturday at the latest.
The problem solar array, which got stuck partially folded in an attempt to retract it Wednesday, prompted a less high-tech attempt to solve the problem Friday.