A Pakistan passenger train packed with holiday travelers went careering off the rails overnight, killing at least 45 people and leaving more than 100 injured, officials said on Wednesday.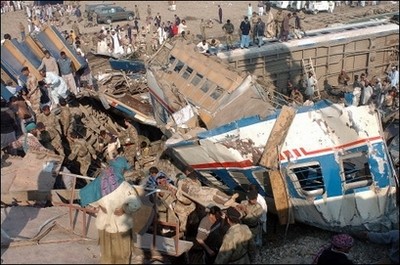 Pakistani army soldiers carry the body of a train passenger killed in an accident in the southern town of Mehrabpur, 19 December 2007 (Photo: AFP)
Hours after the accident outside the southern town of Mehrabpur, rescuers were still frantically trying to cut into one of the carriages. Another was flattened underneath it, with an unknown number of people feared dead inside.

"We have already counted 45 bodies," the operations manager of Pakistan Railways, Asad Saeed, told AFP. "The death toll may rise."

The Karachi Express was en route to Lahore, filled with hundreds of people getting ready to celebrate the Muslim holiday of Eid al-Adha, when it went off the rails outside Mehrabpur, 200 kilometers (125 miles) northeast of Karachi.

The train cars fell from an elevated part of the track about four meters (yards) above the ground, and piled atop each other in a twisted jumble of metal.

"We were almost asleep when we heard something -- a big bang. Then I felt I was flying through the air and the carriage was tumbling to the ground," said Shahid Khan, a 24-year-old salesman.

"We were grappling in the darkness," a shaken Khan said. "Somehow we managed to make it out."

Saeed said sabotage did not appear to have caused the accident, which wrecked several of the train's 17 carriages.

"Initial reports said a welded joint on the track broke, due to contraction in the extreme cold," he said. "It sometimes happens in winter."

Officials said doctors and aid workers were struggling to cope with the large numbers of casualties. Local people came by the hundreds to help, carrying the injured away on rickshaws, motor-scooters and donkey carts.

Rescuers were fighting darkness and bitter cold, and did not have sophisticated tools to cut open the carriages or sufficient torches to help them work. Army doctors brought lifesaving equipment.

Hundreds of people have been killed in recent years on Pakistan's ageing railway system. Casualty figures are often high because carriages are packed with many more people than they are designed for.

Millions of people across Pakistan travel during the Eid al-Adha holiday.

Pakistan suffered its worst train disaster in more than a decade in 2005 when three trains ploughed into each other in Sindh province, killing around 150 people. More than 350 people were killed in a 1990 train smash.