At least 70 people were killed and hundreds more hurt Tuesday when a 6.3-magnitude earthquake rocked Indonesia's Sumatra island, officials said.
"There are seventy people killed," the mayor of Solok, Samsurahim, told ElShinta radio.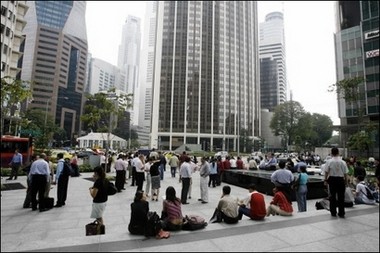 Office workers wait at an open area outside a building in the financial district of Singapore after they felt the tremor from an earthquake in Indonesia Sumatra Island
He said that a fire had consumed a school after the earthquake, claiming at least three lives.
"We saw at the army hospital there are three burnt bodies. There is a school burned," Samsurahim said.
"Several houses have collapsed. There are hundreds of victims -- we have asked for medical help ... our facilities here are insufficient."
The death toll could increase, the state Antara news agency reported, and many buildings were damaged.
The quake struck at 10:49 am (0349 GMT), the US Geological Survey said, about 50 kilometres (30 miles) northeast of the West Sumatra capital Padang. Indonesian seismologists estimated a lower magnitude of 5.8.
Solok is located to the northeast of Padang.
The temblor was felt in cities including Bukittinggi, where power cuts were reported.
In Padang, a witness said people fled to higher ground fearing a tsunami, although the quake struck on land, not offshore.
The shock was felt in Singapore, causing hundreds of people, some of them weeping and screaming, to evacuate high-rise offices, as well as Malaysia.