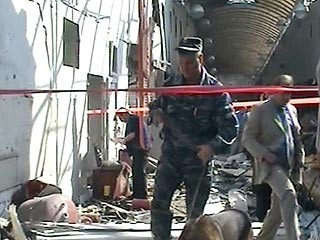 Securiry force investigates the blasts' scene at the market in eastern Moscow, August 21, 2006 (NTV Photo)
Russian NTV said ten people had been killed, including three children, and at least 13 others injured in the blasts at the market in eastern Moscow.
The first explosion occured at 10:15 PM, the second went up 15 minutes later. A ministry spokeswoman said the explosions may have been caused by a bomb, while eyewitnesses quoted by police said the blast was caused by an exploding gas container.
ITAR-TASS quoted an unnamed explosives expert at the scene as saying: "It is still too early to talk about the force and cause" of the explosion, since the investigation team had not yet begun work.