Australia's new prime minister Julia Gillard Friday talked up her plan for a regional refugee centre to tackle people smuggling but backed away from suggestions it should be built in East Timor.
Gillard Tuesday launched her bid for a regional processing hub with assurances she had discussed the plan with East Timor's President Jose Ramos-Horta, whom she said had indicated his initial support.
Her remarks were widely interpreted as inferring that the tiny island nation would be the site for such a centre, drawing a hostile response both domestically and in aid-dependent Timor.
Gillard was met with angry protests about the plan as she hit the hustings in the mining city of Perth ahead of looming elections, with one man flinging an egg at her as she passed, sparking a security scare.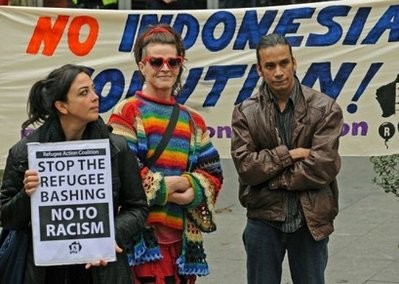 Activists from the Refugee Action Coalition take part in a rally in Sydney in support of refugees on July 9, 2010.
She moved to shift the debate away from East Timor, denying she had definitively said the fledgling nation would be home to the centre.
"Earlier this week I made the case that regional processing needs to be part of our long-term solution to unauthorised arrivals," Gillard said in a speech.
"I said in my speech that one possibility was a centre in East Timor."
"I said that there is no quick fix and that a careful dialogue is needed," she added. "The dialogue with other regional neighbours is also continuing."
The prime minister, who deposed former leader Kevin Rudd in a lightning coup just two weeks ago, said the ultimate destination would be decided through regional negotiation.
She hit back at suggestions that she failed to properly consult impoverished East Timor before naming it at the centre of her policy, saying no "concrete proposal" had yet been made.
"Those critics who want to declare the approach dead in week one are mistaken and will, I'm afraid, be disappointed," she added.
Gillard earlier said she would rule out building the centre "anywhere that is not a signatory to the (UN) refugee convention", and noted that did not exclude Papua New Guinea.
Offshore processing in Manus Island, part of Papua New Guinea, was a central part of the former conservative government's so-called "Pacific Solution" of locking up and processing boatpeople offshore.
Gillard has denied her tough regional plan is a return to the hardline Pacific Solution, an approach which is being advocated by the conservative opposition as Australia prepares for national elections.
Immigration is a sensitive issue in Australia, where boatloads of refugees arrive after perilous voyages from Asia, often in rickety fishing vessels, as they escape countries such as Afghanistan and Sri Lanka.
Gillard's insistence that the centre be built in a UN-signatory nation rules out key transit countries Indonesia and Malaysia, as well as Singapore, Thailand, Vietnam, Vanuatu, Tonga and island states in Micronesia.