Arsonists lit a wildfire which killed 21 people in Australia and are suspected of starting another that razed a whole town and may have left up to 100 dead, police said Thursday.
At least 181 people died when the worst bushfires in Australian history scorched the southeastern state of Victoria on the weekend, but the toll is expected to rise beyond 200 as more bodies are found, officials say.
Police said two people had been arrested after behaving suspiciously in relation to the fires but did not specify any possible charges against them or even confirm whether arson was involved.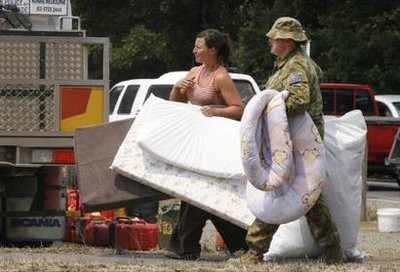 A woman leaves the donation centre with the help of an Australian Army soldier in the town of Kinglake, 46 km north of Melbourne, February 12,
"We're sure that the fire in Churchill was deliberately lit," Victorian Police Commissioner Christine Nixon told Nine Network television, referring to one blaze in which 21 people died.
"And we have now been given some information that makes us suspicious about the Marysville fire," she said.
Marysville, a picturesque town of some 500 people 80 kilometres (50 miles) northeast of Melbourne, was reduced to ash and officials have warned that the death toll there of 15 could rise to 100 as more bodies are recovered.
"As we've gone to Marysville to investigate we've, along with fire experts, become suspicious about how the fire actually came into Marysville, the direction it came from, the pace it came with," Nixon said.
Heatwave temperatures approaching 50 C (122 F) combined with strong winds and tinder-dry scrub to produce a firestorm Saturday that destroyed more than 1,000 homes and razed 450,000 hectares (1.1 million acres) of bushland.
Cooler weather and calmer winds Thursday eased fears that two big fires in Gippsland, east of Melbourne, could meet and turn into one huge conflagration, but about 30 fires continued to rage in the region.
"We have to be vigilant," Prime Minister Kevin Rudd told parliament.
Firefighters who have been struggling non-stop against the flames since the weekend were using the lull to marshall equipment near the fire-front and complete containment lines designed to slow the fires' advance.
"It gives us a window of opportunity now to do some good work," environment department spokesman Stuart Ord said.
There are concerns that stronger winds and hotter temperatures forecast for the weekend could drive the flames toward energy and water infrastructure servicing Melbourne, a city of more than three million people.
Police have launched the largest arson investigation in Australian history, warning that anyone believed to have caused fatal bushfires faces a 25-year jail sentence for murder.
Police commissioner Nixon also confirmed they had received reports that more fires had been deliberately lit even as firefighters battled to bring the killer blazes under control.
"You and I would just be staggered by that, but that's what we're certainly seeing. We've been investigating those as well," she told Channel Seven television.
Rudd has said any arsonists proven to have started killer blazes would be guilty of "murder on a grand scale" and should "rot in jail."
Australia's shock at the scale of the catastrophe gave way to finger-pointing -- with environmentalists, bungling bureaucrats, politicians and global climate change all being blamed for contributing to the disaster.
Firefighters union chief Peter Marshall issued a strident call for greater cuts in Australia's carbon emissions to reduce the effects of global warming blamed for extreme weather.
"The science suggests we are well on the way to guaranteeing that somewhere in the country there will be an almost annual repeat of the recent disaster and more frequent extreme weather events," he said in an open letter to Rudd.