A massive cyclone roaring towards Australia has strengthened to the most dangerous threat level, as officials are warning it could be the strongest storm in generations.
As the winds that heralded Severe Tropical Cyclone Yasi's arrival began battering hundreds of kilometres (miles) of Queensland coast, officials told residents it was now too late to escape the monster storm.
"The time for movement and evacuation has now passed," state Premier Ana Bligh said, terming Yasi "the most catastrophic storm to ever hit our coast.
"People should be sheltering wherever they are."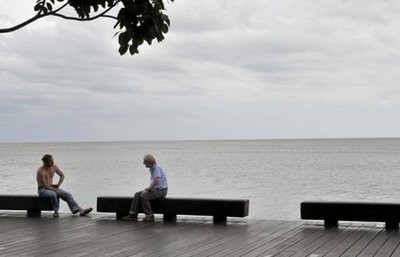 Locals chat casually on the Esplanade in Cairns as storm clouds gather over the Coral Sea ahead of the impending cyclone Yasi, on February 2.
Yasi was upgraded to a category five storm from category four as it menaced the populous east coast, where it was expected to hit around 10:00 pm (1200 GMT) on Wednesday, the Bureau of Meteorology said.
"This impact is likely to be more life-threatening than any experienced during recent generations," it said in an ominous warning that raised the expected strength of the looming storm.
Yasi, packing a 650-kilometre (400-mile) front and an eye measuring about 35 kilometres across, was on course to slam directly into the area between the tourist hub of Cairns and Cardwell to the south.
Prime Minister Julia Gillard said Yasi looked like the worst cyclone in Australian history and said the nation was with Queenslanders as they faced "many, many dreadful, frightening hours" waiting for it to strike.
"This is probably the worst cyclone that our nation has ever seen. In the hours of destruction that are coming to them, all of Australia is going to be thinking of them," she said.
Yasi was expected to generate highly destructive winds of more than 280 kilometres per hour, 700 millimetres (27.5 inches) of rain and a storm surge that is threatening to flood towns and tourist resorts.
The epic cyclone, the first category five to hit the area since 1918, was over the Coral Sea about 400 kilometres offshore, but high winds were already battering the coast 10 hours before its arrival.
Yasi is so enormous that it would almost cover the United States, most of Asia and large parts of Europe, News Ltd newspapers reported.
Locals and tourists were warned to stay where they were and not to risk moving until the storm had passed.
Those remaining in their homes were told to prepare a "safe room" with mattresses, pillows, a radio, food and water supplies to wait out the cyclone.
"(People) should be preparing themselves for the fact that the roofs of their houses may lift off but that does not make the structure ... of the house any less sound," State Disaster Coordinator Ian Stewart said.
"They get wet but it is far more dangerous to panic and run out of the house than to stay bunkered down."
Thousands of people have already fled the area since Monday and seaside residents were urged to desert their homes ahead of a dangerous storm surge of between 2.3 and seven metres (yards) that was likely to cause major flooding.
Two hospitals in Cairns have been evacuated and shuttered, and their patients were airlifted on military planes to the city of Brisbane.
But airports and ports in Cairns and other cities down the coast were shut to traffic Wednesday as winds picked up strength, while remaining residents battened down in the safest rooms in their homes and prayed for safety.
The streets of Cairns, usually bustling with holidaymakers and diving enthusiasts, were eerily deserted. Eight evacuation centres set up to shelter those who were forced to flee their homes were full.
"We have a mild sense of panic. The worst thing is the waiting," government worker Iony Woolaghan told AFP from Townsville, where officials say more than 10,000 homes are at risk of flooding.
The storm's size and power dwarfs Cyclone Tracy, which hit the northern Australian city of Darwin in 1974, killing 71 people and flattening more than 90 percent of its houses.
It will also be twice the size and far stronger than the category four Cyclone Larry that caused Aus$1.5 billion ($1.5 billion) of damage after hitting agricultural areas around Innisfail, just south of Cairns, in 2006.
Forecasters said Yasi could be "horrific" and take 24 hours to weaken after it makes landfall.